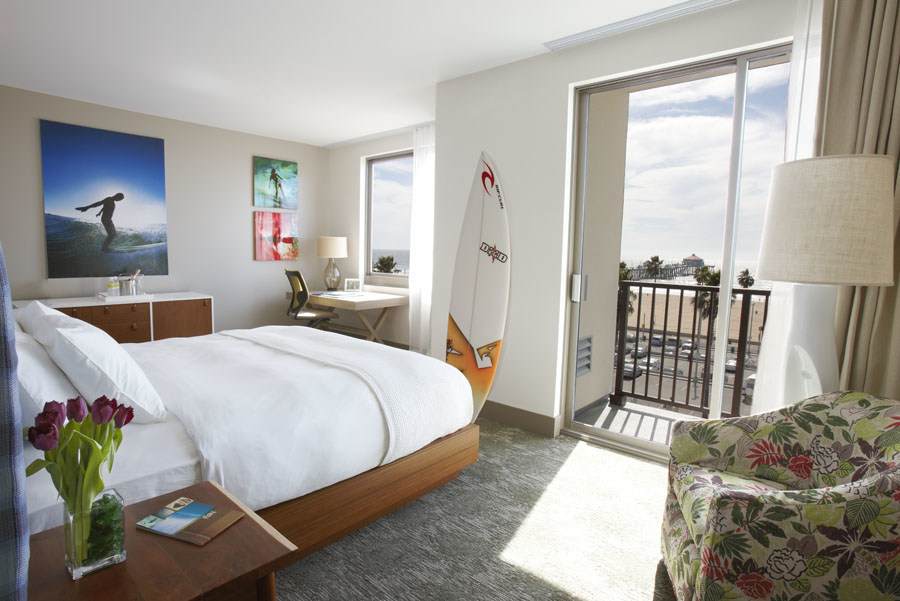 DiamondRock Hospitality Company recently acquired the Shorebreak Hotel ("Hotel") in Huntington Beach, CA, for a purchase price of $58.5 million.
Mark W. Brugger, President and Chief Executive Officer of DiamondRock Hospitality Company, said, "We are thrilled to announce our acquisition of the Shorebreak Hotel.  This was a rare opportunity to buy a truly unique beachfront property in one of Southern California's premier resort destinations.  With ten miles of pristine beaches, Huntington Beach is one of the highest-rated markets in the country, with excellent RevPAR growth potential and high barriers to entry.
We believe there is untapped potential at this asset and have brought in Kimpton Hotels & Restaurants as the new manager.  Kimpton has a strong track record of operating popular, successful hotels throughout Southern California, including desirable beach destinations, which made them a natural choice for us with this exciting new property."
The Shorebreak Hotel was constructed and opened six years ago and is a premier beachfront hotel located on the renowned Pacific Coast Highway ("PCH") overlooking the Pacific Ocean. Designed as a unique surfing-inspired resort, the Hotel features 157 well-appointed guestrooms, including 37 suites, and the popular Zimzala Restaurant & Bar. As a boutique hotel with over 3,900 square feet of flexible meeting space, the Hotel is able to attract both groups and corporate guests looking for a unique Southern California experience. Located across from the Huntington Beach Pier at Main Street, the Hotel is well positioned to capture leisure, group, and corporate demand from the over 16 million annual visitors to the area.
Downtown Huntington Beach is a well-established and growing market that features urban street retail within an affluent coastal residential community. Considered one of the U.S.'s most popular beach communities, Huntington Beach hosts annual events that include international surf, skateboard, and BMX competitions and additional regional events and festivals. With ten miles of scenic beachfront, Huntington Beach holds the distinction of being the largest stretch of uninterrupted beachfront on the West Coast.
In addition to tourism, Huntington Beach is one of the leading commercial and industrial centers in Southern California. Home to more than 650 industrial businesses, including Boeing, Quicksilver, Cambro Manufacturing, and C&D Aerospace, Huntington Beach boasts a diversified and dynamic economy. The city's diverse economy, location within Orange County, as well as the residential population, complements its tourism demand base.