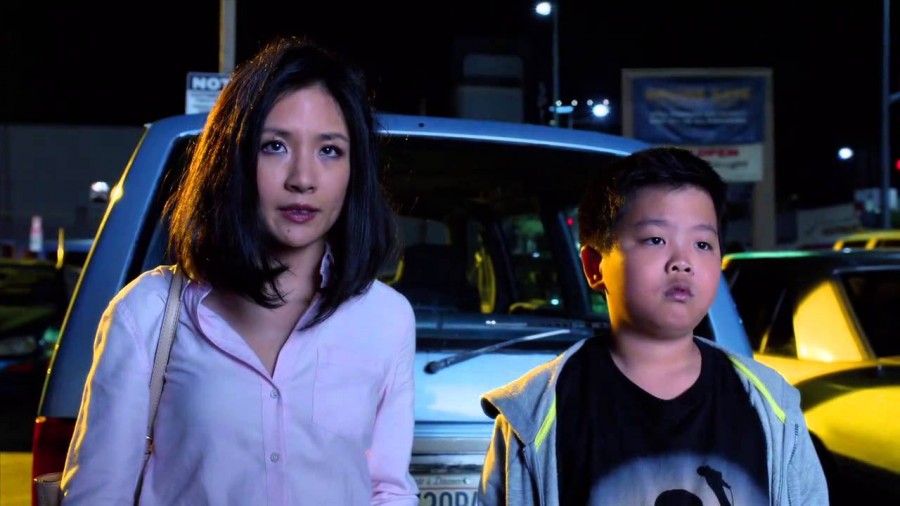 Photo ABC Media
Tonight, ABC premieres "Fresh Off The Boat" Wednesday, February 4 at both 8:30 and 9:31 p.m., regular time period premiere continues Tuesday, February 10 (8:00-8:30 p.m., ET).
This refreshingly hilarious new series has smart, witty writing and stand-out performances from Randall Park as Louis, Constance Wu as Jessica and Hudson Yang as Eddie.
Inspired by a true story, it's 1995 and 11-year-old hip-hop loving Eddie Huang has just moved with his family from Chinatown in Washington D.C. to suburban Orlando. They quickly discover things are very different there. Orlando doesn't even have a Chinatown . . . unless you count the Huang house.
Eddie's dad, Louis, has dragged the family to the 'burbs to pursue his version of the American dream, opening Cattleman's Ranch Steakhouse, a struggling western-themed restaurant. Louis thinks that the best way to get customers in the door is to hire a white host to greet them and make them feel comfortable. Eddie's mom, Jessica, has agreed to the move, but she finds Orlando a strange place — from the rollerblading stay-at-home moms, to the hospital-like grocery stores, to the fact that the humidity has ruined her hair.
Meanwhile, Eddie is just trying to figure out his place in this new world, which is proving extremely difficult. When the kids at school make fun of his homemade Chinese lunch, he begs his mom to get him "white people lunch"… aka, Lunchables. Like one of his idols, The Notorious B.I.G, Eddie's a guy with mad dreams — first, get a seat at the table. Second, meet Shaq. Third, change the game (possibly with the help of Shaq). It's a classic immigrant story, seen through the eyes of a first-generation Asian American kid.
"Fresh Off the Boat" was written by Nahnatchka Khan, who also serves as executive producer. Jake Kasdan and Melvin Mar are executive producers, and Eddie Huang is producer. The series is produced by 20th Century Fox Television.