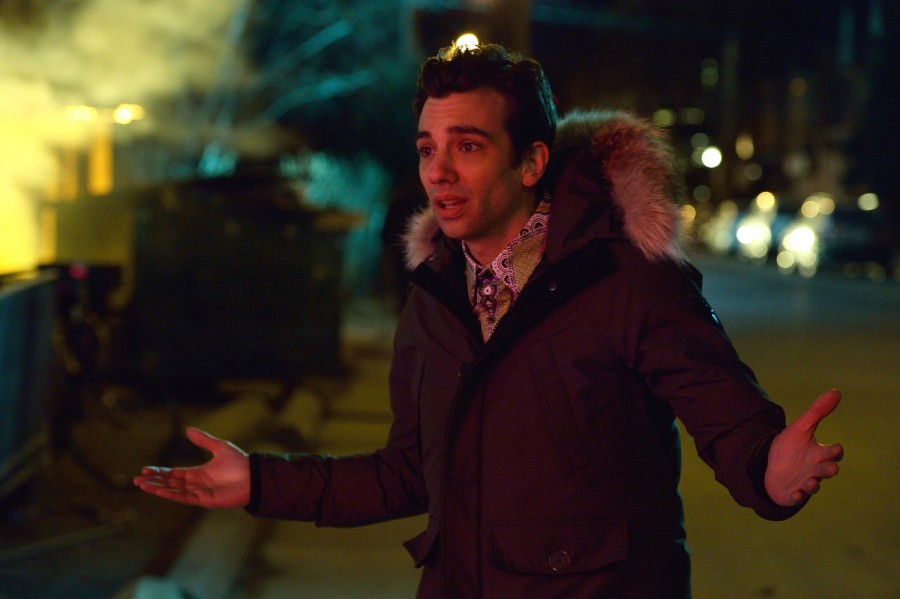 Photo: Michael Gibson/FXX
Ah yes, the dating jungle. It's always seen as an obstacle course; a struggle through the process of elimination in finding "the one." FXX's latest comedy series, "Man Seeking Woman" portrays the challenges of dating within the tinder-texting era and it's downright hilarious. The series premieres Wednesday, January 14 at 10:30PM.
An appropriately awkward and somewhat hopeless romantic, Josh Greenberg (Jay Baruchel) soldiers through one-night stands, painful break-ups, a blind date with a troll, time travel, sex aliens, many deaths and a Japanese penis monster named "Tanaka" on his fantastical journey to find love. While the premiere episode may seem a bit over-the-top at times (I'm referring to the actual troll Greenberg goes on a date with), "Man Seeking Woman" has an "Ally McBeal" flavor that works. The main character's overactive imagination sees everything from his ex-girlfriend's new boyfriend as Hitler to a live string section serenading him in his living room.
The 20-30 somethings of 2015 will easily latch onto MSW. As the show progresses, Greenberg finds himself in a major war with how to first communicate with a girl via text messaging. It's an entire military operation, with commander-in-chiefs and news reporters hanging on Greenberg's every text to the girl. Let's just say, the 'now' generation can relate to every dating scenario Greenberg finds himself tangled up in. It's laugh-out-loud funny.
Baruchel is perfectly cast as the neurotic and innocent twenty-something. Starring alongside Baruchel are Eric Andre (The Eric Andre Show) as "Mike," Josh's confident and daring best friend; Britt Lower (Unforgettable) as "Liz," Josh's intimidating older sister; and Maya Erskine (Betas) as "Maggie," the ex-girlfriend Josh can never quite forget. The series is based on Simon Rich's book of short stories, The Last Girlfriend on Earth.
By Pamela Price