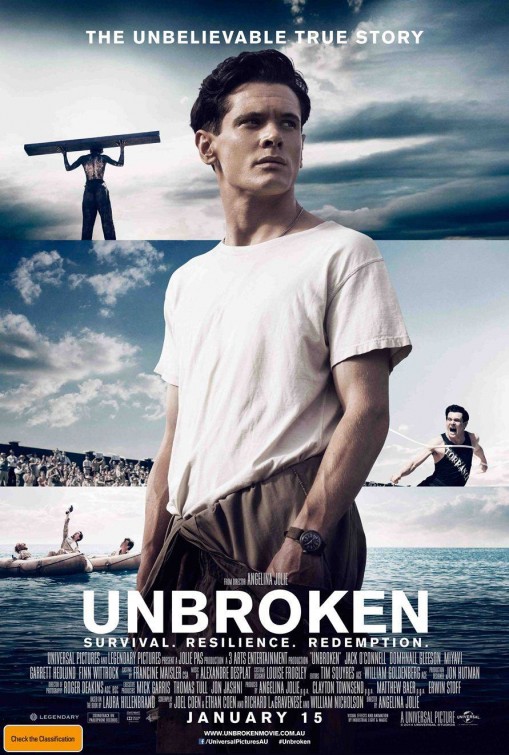 Unbroken will be screened at The Vatican this week.  Director Angelina Jolie has traveled to Rome to attend the event, joined by Luke Zamperini, the son of the film's subject, Louis Zamperini.
Pope Francis, aware of the incredible life story of Louis Zamperini, graciously welcomed the opportunity to view the film and is expected to attend the screening at the Casina Pio IV, headquarters of the Pontifical Academy of Sciences and Pontifical Academy of Social Sciences, on Thursday, January 8.  Anticipated to attend with The Holy Father, Ms. Jolie and Mr. Zamperini is a delegation of Vatican leaders and officials.
"To be invited to screen Unbroken at The Vatican is an honor and a tribute to Louie's legacy as a man of faith and someone who exemplified the power of forgiveness and the strength of the human spirit," stated Ms. Jolie.  "These are universal themes at the heart of the human experience everywhere."
Unbroken opened in theaters on Christmas Day.  Academy Award® winner Angelina Jolie directs the film, an epic drama that follows the incredible life of Olympian and war hero Louis "Louie" Zamperini who survived in a raft for 47 days after a near-fatal plane crash in WWII—only to be captured by the Japanese Navy and sent to a prisoner-of-war camp.  Adapted from Laura Hillenbrand's ("Seabiscuit: An American Legend") enormously popular book, Unbroken brings to the big screen Zamperini's unbelievable and inspiring true story about the resilient power of the human spirit.  The film is produced by Ms. Jolie, as well as Matthew Baer, Clayton Townsend and Erwin Stoff.