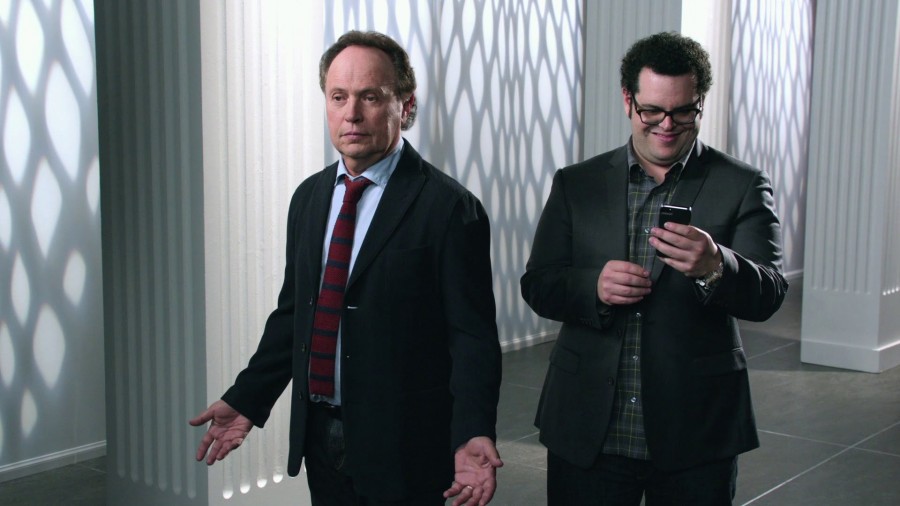 Photo: FX Networks
It's all about comedy at FX this year – and we mean good, lasting comedy. There were plenty of exciting announcements at the TCA's this year in Pasadena, California. Here's what you need to know:
FX has set the premiere date of April 9th for the series premiere of the new comedy series The Comedians starring Billy Crystal and Josh Gad and the fifth season of the Emmy® Award winning comedy series Louie. The Comedians will air at 10:00 PM ET/PT, followed by Louie at 10:30 PM ET/PT. The debut season of The Comedians will feature 13 episodes of the new series starring Billy Crystal and Josh Gad.
In The Comedians, Billy Crystal plays a comedy legend who is reluctantly paired with Josh Gad, an edgier up-and-coming star, in an unfiltered, behind-the-scenes look at a fictional late night sketch comedy show where egos and generations collide. Stephnie Weir stars as "Kristen Laybourne," the anxiety-ridden producer behind The Billy & Josh Show who frequently finds herself caught in the middle of Billy and Josh's arguments, Matt Oberg stars as "Mitch Reed," the show's head writer, and Megan Ferguson stars "Esme McCauley," a no-nonsense production assistant.
FX also acquired the television rights to Emmy Award winner Louis C.K.'s next standup comedy special, Louis C.K. Live From the Comedy Store, it will announced today by John Landgraf, CEO of FX Networks and FX Productions. C.K. will make the special available to fans first on his website, LouisCK.net, in coming weeks after his record-breaking run of shows at Madison Square Garden. C.K. is the first comedian to sell out three shows for the same tour in Madison Square Garden history. Tickets for the fourth Madison Square Garden show on January 27th went on sale yesterday.
In addition, the netwrok ordered comedy pilot Better Things, created by and starring Pamela Adlon and directed by fellow Louie star Louis C.K., it was announced today by John Landgraf, CEO, FX Networks and FX Productions. If you think being a parent is hard, try raising three girls by yourself.  In Better Things, Adlon plays "Sam," a working actor trying to earn a living, navigate her daughters' lives, have fun with a friend or two, and also – just maybe – squeeze in some sex once in a while.  Her life is funny to watch, but you wouldn't want to live it (except sometimes). Adlon (Louie, Californication) and Louis C.K. (Louie) will write the pilot and serve as Executive Producers, along with Blair Breard, Dave Becky and 3 Arts Entertainment. The pilot is produced by Louis C.K.'s production company, Pig Newton, and FX Productions.