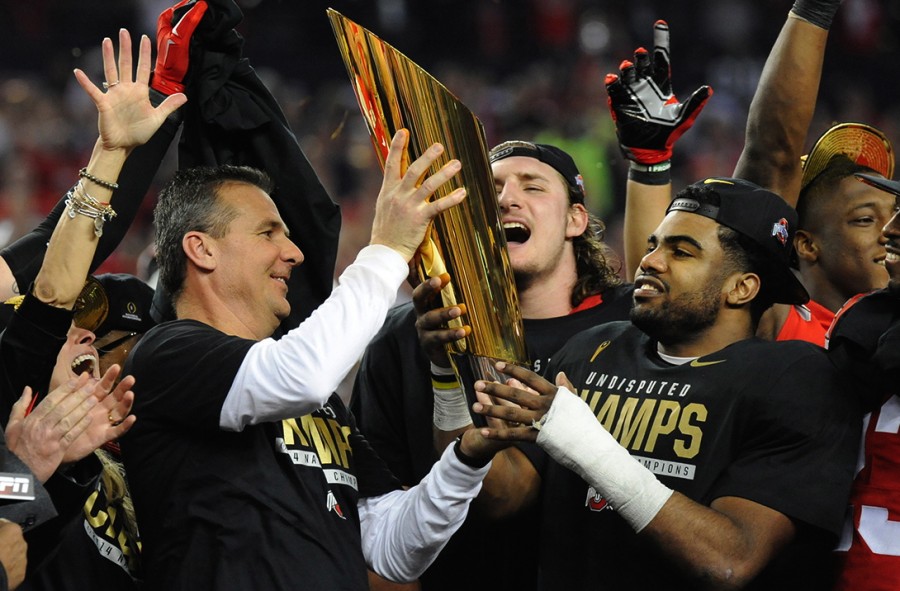 Photo: http://www.collegefootballplayoff.com 
The Ohio State Buckeyes defeated the Oregon Ducks 42-20 in Arlington Texas, the first winner of the new BCS playoff format. This is the school's eighth national championship.
Running back Ezekiel Elliot and quarterback Cardale Jones led the Buckeyes' scoring, an offensive front that looked more impressive than Heisman winner Marcus Mariota and the much-lauded Oregon offense. Elliot was named offensive MVP after rushing for 246 yards and four touchdowns.
Jones is a fascinating story. He entered training camp as Ohio State's third-string quarterback. After a season-ending injury to first string quarterback Braxton Miller, JT Barrett took the helm and became a Heisman candidate. Barrett would suffer a season-ending injury against Michigan, the team's final game of the season, paving the way for Jones to make his championship run.
This has been an unprecedented level of depth at the quarterback position. A team winning the national title with a third-string quarterback has never been done before.
"This will go down as one of the great stories in college football history," Ohio State head coach Urban Meyer told reporters after the game.
Meyer made some history of his own this year. He became the second head coach in the history of college football to win national championships with multiple schools. He previously won with Florida in 2006 and 2008. Alabama head coach Nick Saban is the only other coach to accomplish this feat.
For Oregon it is a crushing loss. Mariota is likely headed to the NFL Draft where he is the top professional prospect. This was their year, next year they will essentially start from scratch.
The playoff format proved to be extremely successful for the NCAA. It added an element of excitement and justice to the championship system, which was highly-criticized in the past. If this is how every playoff plays out, everyone from the fans, the NCAA, and the athletes is a winner.
By Kyle Edwards