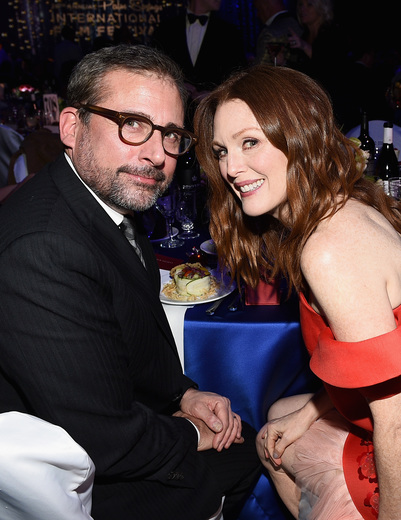 Kicking off Awards Season, the 26th Annual Palm Springs International Film Festival (PSIFF) Awards Gala, presented by Cartier, was held Saturday, January 3rd, 2015 at the Palm Springs Convention Center hosted by Mary Hart. 
The following awards were presented at this year's Awards Gala:
 
Rosamund Pike received the Breakthrough Performance Award, Actress for Gone Girl presented by her co-stars Carrie Coon and Kim Dickens.
David Oyelowo received the Breakthrough Performance Award, Actor for Selma presented by one of the film's producer Brad Pitt.
J.K. Simmons received the Spotlight Award for Whiplash presented by Juno director Jason Reitman.
Robert Duvall received the Icon Award for The Judge presented by his co-star Robert Downey, Jr.
Julianne Moore received the Desert Palm Achievement Award, Actress for Still Alice presented by her co-star in Crazy, Stupid, Love. Steve Carell.
Richard Linklater received the Sonny Bono Visionary Award for Boyhood presented by Shirley MacLaine, who he directed in Bernie.
Eddie Redmayne received the Desert Palm Achievement Award, Actor for The Theory of Everything presented by his Savage Grace co-star Julianne Moore.
Alejandro González Iñárritu received the Director of the Year Award for Birdman presented by the film's star Michael Keaton.
The Imitation Game (Benedict Cumberbatch, Allen Leech, Matthew Beard and Alex Lawther in attendance) received the Ensemble Performance Award presented by the film's director Morten Tyldum.
Reese Witherspoon received the Chairman's Award for Wild presented by her co-star Laura Dern.
 
Additional guests who attended the event: Dale and Leslie Chihuly, Ava DuVernay, Carla Gugino, Felicity Jones, Phillip Keene, Udo Kier, Matthew Lillard, Greg Louganis, Bérénice Marlohe, James Marsh, Patrick Stewart, Jerry Weintraub, Rick Yorn and Palm Springs Mayor Steve Pougnet, along with festival representatives Harold Matzner (Festival Chairman), Darryl Macdonald (Festival Director) and Helen du Toit (Artistic Director).