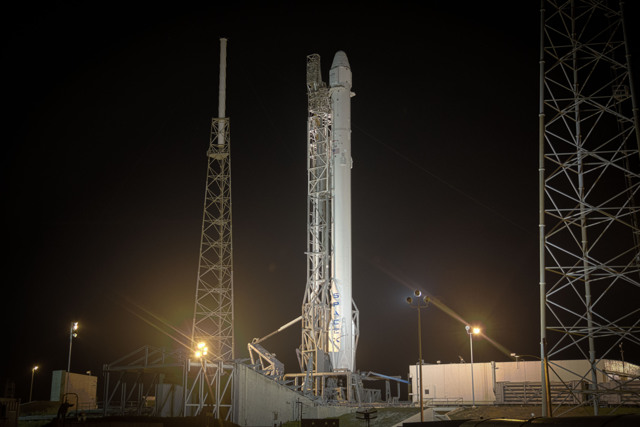 Photo: http://www.spacex.com
More than two tons of supplies and NASA science investigations are on the way to the International Space Station aboard SpaceX's Dragon spacecraft. The spacecraft launched Saturday on the company's Falcon 9 rocket from Space Launch Complex 40 at Cape Canaveral Air Force Station in Florida at 4:47 a.m. EST.
The mission is the company's fifth official cargo delivery flight to the station through NASA's Commercial Resupply Services contract. Dragon's cargo will support more than 250 experiments that will be conducted by the station's Expeditions 42 and 43 crews.
"We are delighted to kick off 2015 with our first commercial cargo launch of the year," said NASA Administrator Charles Bolden. "Thanks to our private sector partners, we've returned space station resupply launches to U.S. soil and are poised to do the same with the transport of our astronauts in the very near future. Today's launch not only resupplies the station, but also delivers important science experiments and increases the station's unique capabilities as a platform for Earth science with delivery of the Cloud-Aerosol Transport System, or CATS instrument. I congratulate the SpaceX and NASA teams who have made today's success possible. We look forward to extending our efforts in commercial space to include commercial crew by 2017 and to more significant milestones this year on our journey to Mars."
The CATS instrument measures the location, composition and distribution of pollution, dust, smoke, aerosols and other particulates in the atmosphere. CATS will be attached outside the station on the Japanese Experiment Module. By gaining a deeper understanding of cloud and aerosol coverage, scientists can create a better model of their role in Earth's changing global climate.
A new biological study will use flatworms as a model organism to see how gravity affects tissue regeneration and the rebuilding of damaged organs and nerves. Flatworms regenerate their cells, replacing them as they age or are damaged. This investigation studies the cell signaling mechanisms the worms use while regenerating their tissue in microgravity. Its results could provide insight into how wounds heal in space.
Also making the trip as model organisms will be fruit flies (Drosophila melanogaster). Scientists will study the flies' immune systems as a model for the human immune system, to explore how spaceflight can make organisms more susceptible to disease, especially since microbes can become more virulent in space.