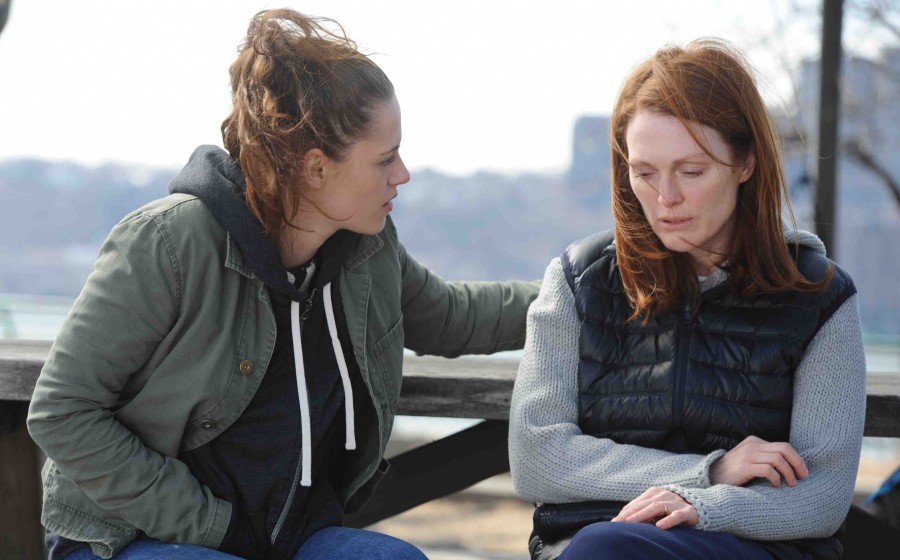 Julianne Moore catapults herself into the best actress race – and breaks some hearts in the process – in the disease-laden drama, "Still Alice," co-starring Alec Baldwin, Kristen Stewart, Kate Bosworth and Hunter Parrish ("Weeds").
Making its Los Angeles debut to a rapturous ovation at the AFI Film Festival last month, this stirring tale written and directed by Wash Westmoreland and Richard Glatzer is far from the by-the-numbers message movie that its premise would suggest. Based on Lisa Genova's bestselling 2007 debut novel, "Still Alice" not only takes an engaging and emotionally accessible approach to a sobering subject, but also sheds a much-needed spotlight on a condition that, whether directly or not, affects us all. A strong marketing campaign will hopefully help this essential film find the audience it so richly deserves.
Dr. Alice Howland (Julianne Moore) is a celebrated professor of linguistics at Columbia University in New York City. Happily married with three adult children (Kristen Stewart, Kate Bosworth and Hunter Parrish) to her doctor husband (Alec Baldwin), Alice leads an active and purposeful life as she approaches her 50th birthday. However, her memory has been fading as of late, such as when she asks the same question twice at dinner and forgets a word she normally wouldn't during a lecture. Initially, Alice attributes this to nothing more than the typical absentmindedness that comes with aging; but when she goes out for a run on campus one day and becomes helplessly lost, she immediately books an appointment with a neurologist.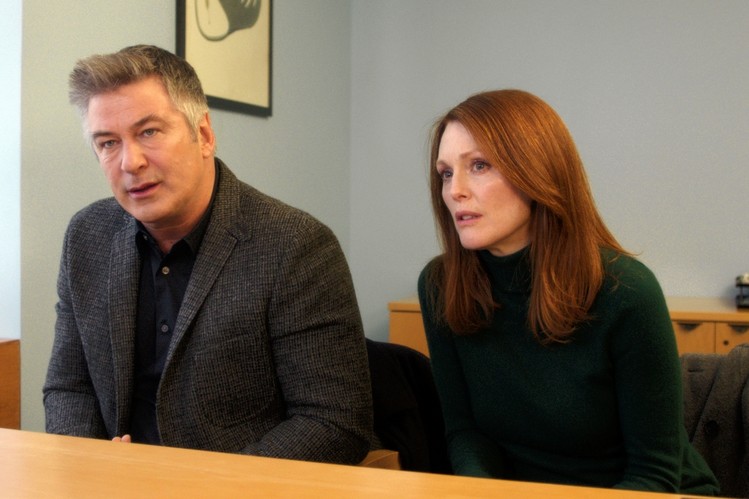 Test results soon reveal that Alice is suffering from early onset Alzheimer's, passed on genetically from her alcoholic father, and the news is understandably devastating. Having to cope with your mind rapidly declining is depressing for anyone, but for a brilliant linguistics professor whose entire life and identity is built on her superior brain function, it's all the more tragic. As Alice comes to terms with her condition, the film charts her physical and psychological deterioration with an honesty and dignity that is truly awe-inspiring.
Richard Glatzer and Wash Westmoreland's screenplay perhaps cuts a few corners by staging explanatory scenes of doctors scientifically breaking down the effects of the disease. But these exposition-heavy scenes are also crucial for the audience's understanding of the story's dramatic arc; and when the emotional impact reaches the powerful heights that it does in "Still Alice," a few dry moments can be forgiven. Most impressive, though, is the script's unflinching honesty in its depiction of the messiness of Alzheimer's for sufferers and loved ones alike – the anger, frustration and hopelessness that accompany the ailment. A lesser film would have every character drop what they're doing and dedicate their lives to helping the terminally ill, but that wouldn't be accurate, and "Still Alice" doesn't whitewash the harsher realities.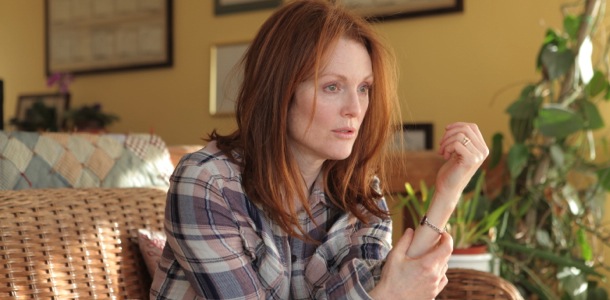 Few actresses working today have the range to pull off this type of transformative role, but Julianne Moore, a four-time Oscar nominee quickly approaching a fifth, has the right skill set to embody this tragic character. So utterly convincing is her performance, that at some point the audience completely forgets that they're watching the work of a bonafide movie star. And while every actor involved in this project brings their "A" game, the two noteworthy supporting performances belong to Alec Baldwin and Kristen Stewart, as their characters are forced to bear the brunt of Alice's illness.
Given that one of the filmmakers is currently battling ALS, the film's source material was written by a neuroscientist, and Alzheimer's advocate Maria Shriver is an executive producer, "Still Alice" is a passion project for everyone involved, and their altruistic intentions shine through every frame. It's a film that serves as inspiration for anyone facing a life-threatening illness, and offers audiences a heartbreaking reminder to always live in the moment.
By Lucas Mirabella
Running Time: 99 minutes
Rated PG-13 for mature thematic material, and brief language including a sexual reference.