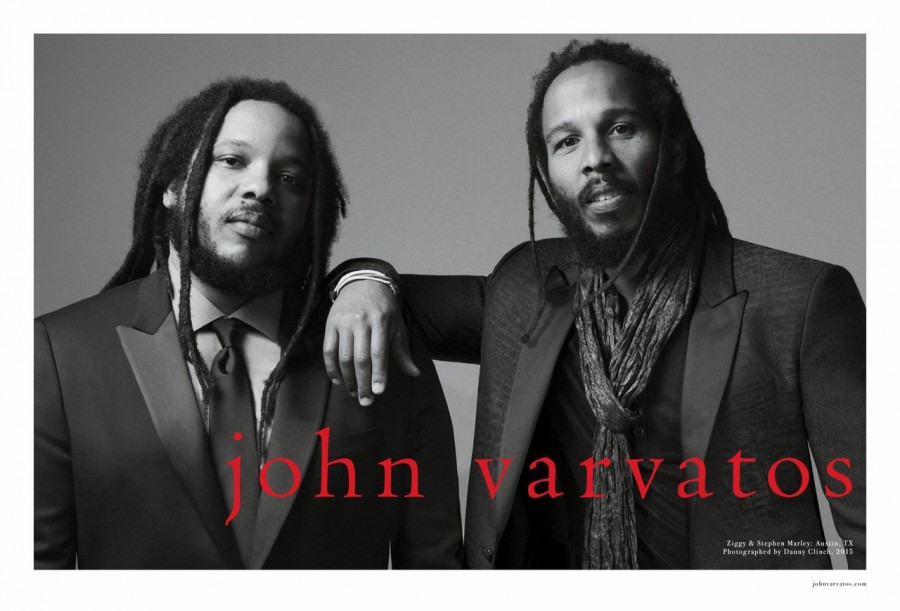 John Varvatos is featuring Ziggy Marley and Stephen Marley in the Spring 2015 advertising campaign.  The legendary black and white imagery was shot in Austin, Texas by distinguished rock photographer Danny Clinch. Dressed in John Varvatos tailored clothing, the Marley Brothers were photographed for a timeless family portrait.
The John Varvatos Spring 2015 ad campaign marks another milestone in the brothers' careers. "'It's always better when I'm able to do projects with my younger brother,' Ziggy explains. 'I don't dress up very often, but when I do, I wear John Varvatos.'" Stephen Marley adds, "From the jungle to the palace, John is a lion!"
In the brand's Spring 2015 campaign, Ziggy Marley wears a black crocodile jacquard two-button peak lapel Jake tuxedo, black linen henley, and black Ricards dress shoe.  Stephen Marley wears a black one button peak lapel Austin tuxedo, grey classic fit dress shirt, black silk tie, and black Richard cap-toe dress shoe.