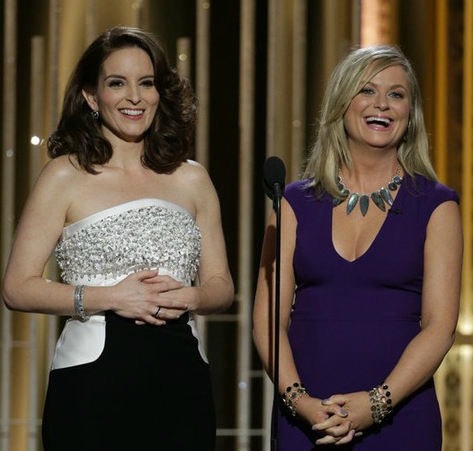 Hollywood's biggest television and movie stars celebrated their achievements wearing platinum jewelry at the 72nd Annual Golden Globe Awards and related parties this evening.
From the stacked bracelets as seen on host Amy Poehler, to Lorde's statement necklace, A-list celebrities chose to showcase their jewels in naturally white platinum settings that truly enhance the brilliance of diamonds and colored gemstones. Platinum jewelry is the choice accessory for celebrities to capture the most special, glamorous and memorable moments.   
Check out where the Platinum shined the brightest on Sunday night….
Amy Poehler in Platinum by Beladora
*Red carpet look
-Platinum and diamond earrings, signed by Tiffany & Co.
-Platinum and 7.7 carat diamond necklace with South Sea pearl
-Stacked platinum and diamond bracelets
Reese Witherspoon in Platinum by Tiffany & Co.
-Platinum and diamond earrings ($600,000)
-Platinum and 6.75 carat diamond ring ($695,000)
Sienna Miller in Platinum by Tiffany & Co.
-Platinum and diamond drop earrings ($22,000)
-Platinum and baguette diamond bow bangle ($100,000)
Amy Adams in Platinum by Tiffany & Co.
-Platinum and diamond drop earrings ($240,000)
-Platinum and diamond five-row bracelet ($180,000)
-Platinum and 2.12 carat square cushion modified brilliant diamond ring ($100,000)
Lorde in Platinum by Neil Lane
-Platinum and diamond necklace (100 carats), and rings
-Platinum and diamond rings
Kerry Washington in Platinum by Neil Lane
-Platinum ear studs with black and white diamonds
Allison Williams in Platinum by Cartier
-Platinum and diamond earrings
Amal Clooney in Platinum by Harry Winston
-Platinum and diamond drop earrings (29.62 carats)
Diane Kruger in Platinum by Kwiat
-Platinum and diamond cluster earrings
-Platinum and diamond bracelets
Cindy Crawford in Platinum by Harry Winston
-Platinum earrings with micropave diamonds and cushion cut sapphire (22.08 carat center stone)
-Platinum and diamond link bracelet
Julianne Moore in Platinum by Chopard
-Platinum and diamond cluster earrings (14.70 carats)
-Platinum and asscher cut diamond line bracelet (44.08 carats)
-Platinum and oval cut diamond eternity band (7.7 carats)
-Platinum and asscher cut diamond eternity band (24.30 carats)
Rosamund Pike in Platinum by Fred Leighton
-Platinum stud earrings with round brilliant diamonds (4.30 carats)
-Art Deco platinum ring with a marquise diamonds, and emerald (4 carats)
Maria Menounos in Platinum by Chopard
-Platinum and diamond chandelier earrings (17.71 carats)
-Platinum and diamond bracelet (34.91 carats)
-Platinum and ashoka cut diamond line bracelet (8.41 carats)
-Platinum and asscher cut diamond tennis bracelet (13.44 carats)
Katherine Heigl in Platinum by Neil Lane
-Platinum earrings with lapis and black onyx
-Platinum ring with diamonds and sapphire
-Platinum and diamond ring
-Platinum and diamond bracelet
-Platinum bracelet with diamonds and sapphire
Robin Wright in Platinum by Harry Winston
-Platinum and round brilliant diamond ear studs
-Platinum and diamond bracelet
Amanda Peet in Platinum by Cartier
-Platinum and diamond earrings
Tina Fey in Platinum by Fred Leighton
-1930's platinum and diamond clip earrings
-Antique platinum ring with cushion cut diamonds and onyx (9 carats)
Ellie Kemper in Platinum by Neil Lane
-Platinum and diamond earrings
-3 platinum and diamond bracelets
-Platinum and diamond ring
Christine Baranski in Platinum by Fred Leighton
-1950's platinum and diamond cluster earrings (15 carats)
-1950's platinum and diamond bracelet (40 carats)
Viola Davis in Platinum by Fred Leighton
-1950's platinum and diamond swirl earrings (6.5 carats)
-1950's Old mine platinum and diamond cuff (39 carats)
Jessica Lange in Platinum by Harry Winston
-Platinum and cushion-cut diamond earrings with micropave (5.12 carats each)
-Platinum and diamond rings
Zosia Mamet in Platinum by Harry Winston
-Platinum and round brilliant diamond ear studs
-Platinum and diamond necklace
-Platinum and diamond ring
Colin Firth in Platinum by Neil Lane
-Platinum and pearl shirt stud set
John Krasinski in Platinum by Neil Lane
-Platinum and diamond cufflinks