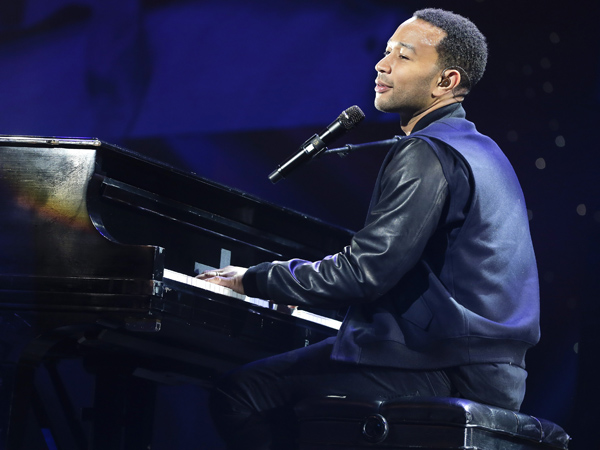 IDINA MENZEL will sing the National Anthem and JOHN LEGEND will sing "America The Beautiful" as part of Super Bowl XLIX pregame festivities at University of Phoenix Stadium in Arizona on Sunday, February 1, the NFL and NBC announced today. The performances will be televised live on NBC prior to kickoff.
More than 112.2 million viewers in the U.S. watched last year's Super Bowl, the most-watched television program in history. The pregame show, including the National Anthem and "America The Beautiful," and Super Bowl XLIX will be broadcast worldwide. 
In addition, actress TRESHELLE EDMOND will perform in American Sign Language the National Anthem and "America The Beautiful."
Menzel will make her Super Bowl debut. She is among many great performers who have been honored with singing the Super Bowl National Anthem including: Renee Fleming, Alicia Keys, Billy Joel, Diana Ross, Neil Diamond, Whitney Houston, Harry Connick, Jr., Garth Brooks, Natalie Cole, Vanessa Williams, Luther Vandross, Cher, Faith Hill, Mariah Carey, Dixie Chicks, Beyonce Knowles, Christina Aguilera and many more. (See below for a complete list of National Anthem performers from past Super Bowls.) 
Legend joins VICKI CARR (Super Bowl XI), RAY CHARLES (Super Bowl XXXV), MARY J. BLIGE & MARC ANTHONY (Super Bowl XXXVI), ALICIA KEYS (Super Bowl XXXIX), FAITH HILL (Super Bowl XLIII), QUEEN LATIFAH (Super Bowl XLIV & XLVIII) and LEA MICHELE (Super Bowl XLVI) in singing "America The Beautiful" at Super Bowl.  In 2013, JENNIFER HUDSON along with 26 children from the Newton, CT community sang the song in advance of Super Bowl XLVII.
The NFL previously announced that KATY PERRY will headline the Pepsi Super Bowl XLIX Halftime Show. The pregame and halftime shows are an NFL NETWORK PRODUCTION and will be executive produced by RICKY KIRSHNER.