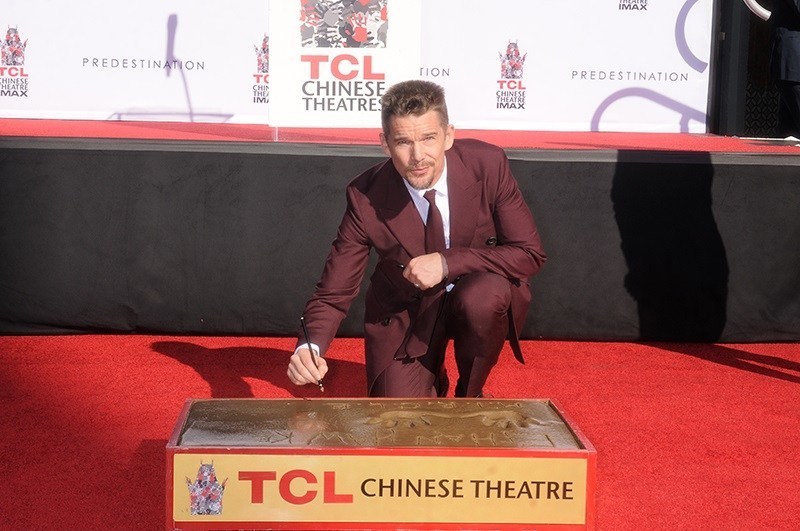 The TCL Chinese Theatre IMAX® has honored three-time Academy Award® nominee ETHAN HAWKE with the iconic ceremony placing his hands and feet in cement. The TCL Chinese Theatre handprints-footprints ceremony is rich in Hollywood tradition and provides its four million-plus annual visitors an opportunity to experience the lore of Hollywoodup close.
Born on November 6, 1970 in Austin, Texas, Hawke has been recognized with 21 notable film industry awards and has starred in more than 50 many major motion pictures, many of which have premiered at the TCL Chinese Theatre. Sony Pictures Worldwide Acquisitions and Vertical Entertainment's Sci-Fi thriller PREDESTINATION, Hawke's latest film, opens in select theatres nationwide and on demand on Jan. 9th.
"We couldn't be more delighted for Ethan as he receives this career recognition today for his excellence in the film industry," says Steve Bersch, President, Sony Pictures Worldwide Acquisitions. "Along with our distribution partners Vertical Entertainment, we salute Ethan and wish him continued success."
"I have known Ethan for over 20 years and he has remarkably remained true to himself through all of his success across independent cinema, commercial cinema, Broadway and publishing," says Jason Blum of Blumhouse, Hawke's longtime friend who produced two of Ethan's most recent hits, Sinister and The Purge.  "Nobody has walked the tightrope of art and commerce better than Ethan and when I have trouble myself, he has helped me find my way. The word trailblazer is so overused that it has lost its power, which is too bad, because in Ethan's case it is entirely true. I am proud to call him my friend and collaborator."
Hawke has collaborated with filmmaker Richard Linklater on eight films, including Fast Food Nation, Waking Life, Before Sunrise, Before Sunset, Before Midnight and Tape. Their most recent collaboration, Boyhood, premiered at the 2014 Sundance Film Festival and has now been named one of the top ten films of 2014 by multiple critics groups around the country. Hawke was recently nominated for a Golden Globe, SAG and Independent Spirit Award for his role. He also co-wrote 2 songs for Boyhood: Split the Difference and Ryan's Song.