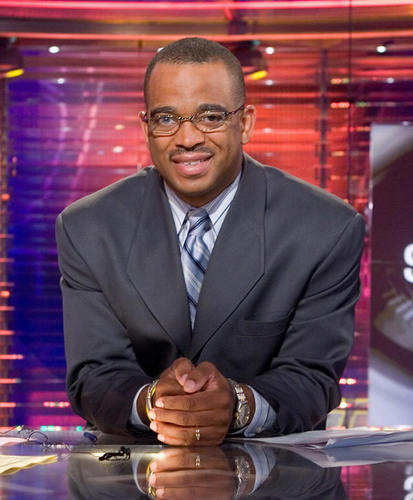 Longtime ESPN anchor, Stuart Scott, made quite a mark in the sports world. On Sunday morning, the admired anchor passed away at the age of 49 after battling cancer for seven years. 
Scott first joined ESPN2 at the network's launch in 1993 as the host of SportsNight. He then saw a long career at ESPN; becoming most famous for his catchphrases on-air. His signature "Boo-Yah!" and "As cool as the other side of the pillow." Another popular Scott saying: "He must be the bus driver cuz he was takin' him to school."
Throughout the years, comedians Tim Meadows and Finesse Mitchell parodied Scott on "Saturday Night Live."

In a farewell ESPN article, his team said:
He was as popular on campus as he was in the airports he passed through and on the sidelines he worked over the last 22 years. He brought so much to the party, and he will continue to do so, through the people he inspired, and the language that he liberated, and the audience that will remember him.
Steve Levy, who came to ESPN shortly before Stuart in August 1993 and served as his co-host for the first "SportsCenter" from the new studio last June, put it this way: "I think the audience recognized that when Stuart was on, there was going to be something special. And to his credit, he brought something special every night he was on."
On July 16th, at the ESPYS awards, Stuart accepted the Jimmy V Award for Perseverance.