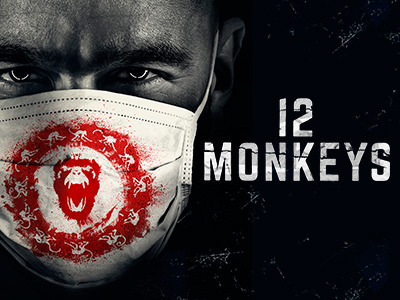 Syfy
premieres their latest series, "
12 Monkeys
" on Friday night, January 16th at 9-10 p.m. ET.
Inspired by the classic blockbuster film, which commemorates its 20th anniversary next year, Syfy's anticipated adventure thriller "12 Monkeys" explores the provocative story of a time traveler from a decimated future in a high-stakes race against the clock. Utilizing a dangerous and untested method of time travel, he journeys from 2043 to the present day on a mission to locate and eradicate the source of a deadly plague that will all but annihilate the human race.
"12 Monkeys" stars Aaron Stanford (as time-traveler Cole), Amanda Schull (Dr. Cassandra Railly), Kirk Acevedo (Ramse), Barbara Sukowa (Jones) and Noah Bean (Aaron Marker).  Additional key recurring roles include Tom Noonan ("Damages," "Hell on Wheels") as a mysterious villain and Emily Hampshire ("Rookie Blue") as mental patient Jennifer Goines.  
Atlas Entertainment's Charles Roven ("American Hustle," "Man of Steel," "The Dark Knight" Trilogy) and Richard Suckle ("American Hustle," "The International"), will executive produce. Roven served as producer on the original film. Jake Kurily will serve as Atlas's producer on the series. Natalie Chaidez ("In Plain Sight," "V," "Heroes") is the executive producer/showrunner and Terry Matalas & Travis Fickett ("Nikita"), who co-wrote the pilot, will serve as co-executive producers.  "12 Monkeys" is produced by Universal Cable Productions in association with Atlas Entertainment.