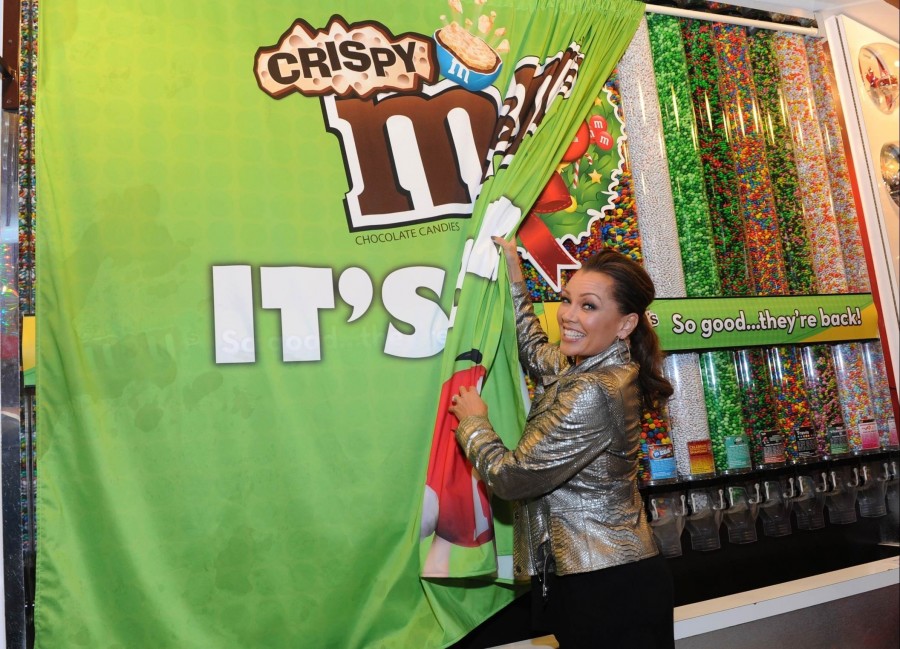 As the first bags of fan-favorite M&M'S® Crispy Chocolate Candies begin to hit store shelves this month – with nationwide distribution available in January – fans in New York Cityreceived an exclusive first taste, with the help of a very special guest.
Vanessa Williams joined the brand at M&M'S World® New York to celebrate the first batches of M&M'S® Crispy available on store shelves.  Williams ceremoniously cut a ribbon across a special shelf stocked with M&M'S® Crispy, and handed out samples to lucky store guests, helping make the holiday season a bit sweeter. In addition, Williams unveiled new tubes on the famous M&M'S World® Candy Wall filled with M&M'S® Crispy, which allows guests to buy their favorite variety in bulk, and mix-and-match with other M&M'S® varieties and colors. 
In October, Mars Chocolate North America announced that after a decade of petitions and pleas from fans, the company is officially bringing back M&M'S® Crispy. M&M'S® Crispy feature a delectable, crispy center covered in rich, creamy milk chocolate, enclosed in a colorful candy shell. This crispy, crunchy and delicious treat is featured in a new, eye-catching, bright green bag.
"The return of M&M'S® Crispy is a tribute to the incredible passion of our fans – and an opportunity to introduce this delicious product to a new generation," said Seth Klugherz, Senior Director, M&M'S® Chocolate Candies. "We're excited to partner with Vanessa for this next special moment, and look forward to continuing the momentum as fans get the beloved product in their hometowns."
M&M'S® Crispy will be widely available at retailers beginning in January 2015 in Singles (1.35 oz.), Sharing Size (2.83 oz.) and Medium Laydown Bags (9.9 oz.). M&M'S World® stores in Las Vegas, Orlando and Henderson, Nevada, will host special M&M'S® Crispy sampling opportunities throughout the month of December before product becomes widely available in January.
For more information, visit the M&M'S® Brand Facebook page at www.facebook.com/mms, the official M&M'S® Twitter handle @mmschocolate, or www.mms.com.