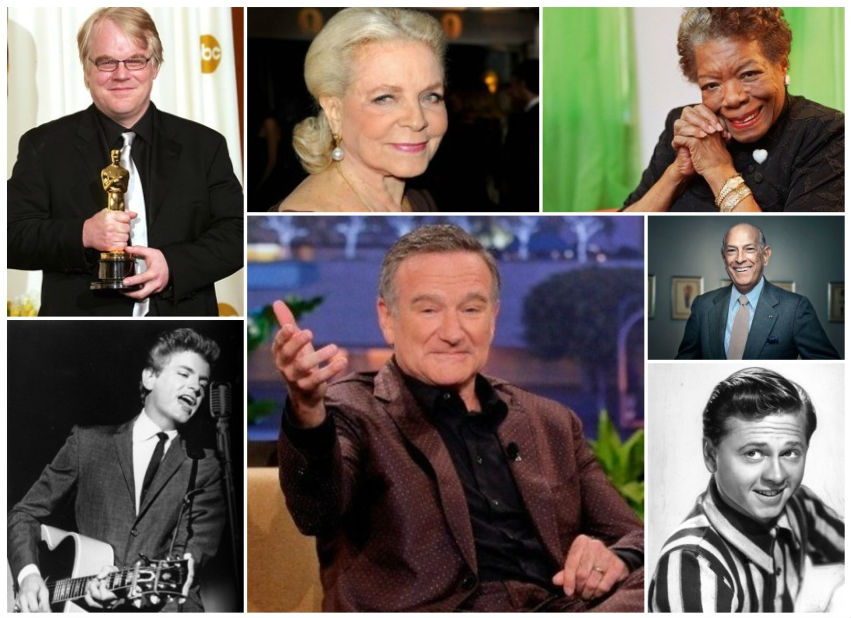 Robin Williams, Lauren Bacall, Philip Seymour-Hoffman, Maya Angelou, Phil Everly... Throughout the year of 2014, we lost many greats in entertainment, literature and beyond.In memoriam, let's take a look at those shining stars and influential figures who's work will live on forever.
October – One if the most iconic fashion designers ever to exist, Oscar de la Renta passed away at 82 years-old.
September – Emmy-winning actress and singer Polly Bergen passed away at the age of 84. Best known for portraying the terrorized wife in the original "Cape Fear" and the first woman president in "Kisses for My President," Bergen's film and television career spanned decades.
August – The greatly admired Oscar winner and comedian Robin Williams died at the age of 63 years-old. "Mork & Mindy," "Good Morning, Vietnam," "Dead Poets Society," "Good Will Hunting," "Aladdin," "Mrs. Doubtfire." These are just a few of the films that Williams brought to life with his incredible show-stopping talent as a comedian and actor.
Lauren Bacall, known to her friends as Betty. The legendary actress passed away of a suspected stroke. She was 89 years-old. At first, Bacall worked as a model before getting her big break as the leading actress opposite Humphrey Bogart in the 1944 film, "To Have and To Have Not."
Television lost one of their great memorable voices. Don Pardo, best known as the intro voice for Saturday Night Live died at the age of 96 years-old. We will always think of Don when we hear his famous, "Live from New York, It's Saturday Night Live!"
July – Actor James Garner rose to fame in the 1950's when he made his mark on the hit TV western "Maverick." The memorable Garner died at the age of 86.
Tom Erdelyi, or as you know him: Tommy Ramone, died at 65 years-old. Ramone was the founding drummer and the last surviving original member of the Ramones, which came together in 1974.
Elaine Stritch, an admired actress with attitude passed away at the age of 89. The singer and actress was best known for her work on the Broadway stage.
May – Maya Angelou was hailed as one of the most memorable and influential voices of contemporary literature.
April – Four-time Oscar nominee, Mickey Rooney passed away at the age of 93. Rooney became a superstar as a teenager, portraying the title character of Andy Hardy in the famous MGM Hardy films.
British actor Bob Hoskins, who was best known for the part of Eddie Valiant in the animated fantasy film "Who Framed Roger Rabbit," died from pneumonia.
March – David Brenner was the most frequent guest on "The Tonight Show Starring Johnny Carson" and famous for his observational comedy. The stand-up comedian, actor and author passed away on March 15th, 2014 at the age of 78 from cancer.
February – Actor and director Philip Seymour Hoffman died at the age of 46. Hoffman's memorable roles in film are endless. His career started in 1991 when he gained recognition for projects such as "Scent of a Woman," "Twister," "Boogie Nights," "Magnolia," "The Talented Mr. Ripley," and the list goes on and on. From "Almost Famous" to "Cold Mountain," Hoffman's performances were vivacious, dark, courageous and 100% committed.
In 2005, he won multiple acting awards including an Oscar for playing the title role in "Capote." He received another three Academy Award nominations for his supporting work in "Charlie Wilson's War "(2007), "Doubt" (2008) and "The Master" (2012).
Many knew him as Coach Calhoun from "Grease." We say goodbye to actor Sid Caesar, who has passed away at the age of 91.
January – Phil Everly of the Everly Brothers music group passed away at the age of 74 years-old. We remember him for his music with his brother Don.
So many hits, from "Wake Up Little Susie" to "Bye Bye Love," "Cathy's Clown," "All I Have to Do Is Dream" and "When Will I Be Loved?" These songs were written by Phil Everly and became chart toppers in the late 1950s and early 1960s. Their music was loved by country, pop and even R&B listeners because of their clean-cut vocals, the rockabilly strum and twang of their guitars.