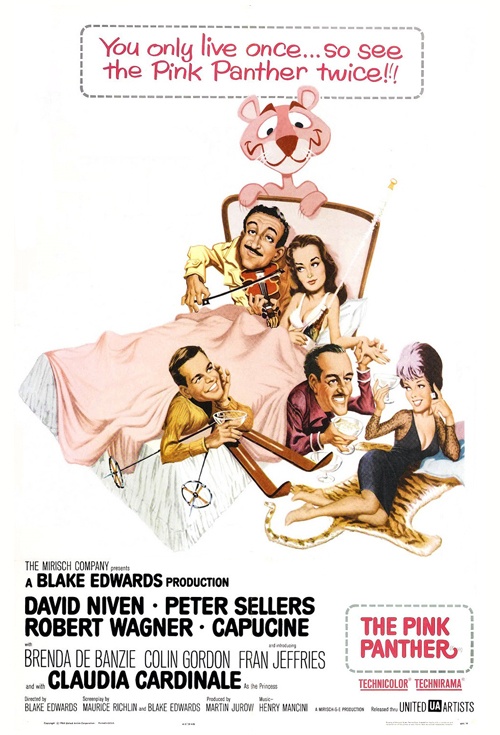 On December 20th, THE PINK PANTHER (1964) will celebrate the 50th anniversary of the comedy, starring Peter Sellers as Inspector Clouseau. Co-star Robert Wagner will be at the Regent Theatre, 1045 Broxton Avenue in Westwood, California.
This timeless caper comedy introduced the character of the bumbling and conceited French detective, Inspector Clouseau, memorably embodied by the inimitable Peter Sellers.  The elegant heist movie also stars David Niven, Robert Wagner, Capucine, and Claudia Cardinale, and it helped to earn director Blake Edwards his reputation as a modern master of slapstick, sight gags, and sophisticated wit.  Other key elements of the film are Henry Mancini's famous theme music and score and the introduction of the Pink Panther cartoon character in the opening credits sequence animated by DePatie-Freleng Enterprises. 
Robert Wagner's enduring and versatile career makes him a true star of film and television.  In the 1950s he shared the screen with many legendary stars.  He played opposite Susan Hayward in With a Song in My Heart, Clifton Webb in Stars and Stripes Forever, Webb and Barbara Stanwyck in the 1953 version of Titanic, Spencer Tracy in Broken Lance, Joanne Woodward in A Kiss Before Dying, and his wife Natalie Wood in All the Fine Young Cannibals.  His success in The Pink Panther was responsible for a surge in his career in the 1960s, leading directly to his hit TV series "It Takes a Thief."  Other film highlights include Harper, The Towering Inferno, and the role of Number Two in the Austin Powers trilogy.  He also starred in the successful TV series "Switch" and "Hart to Hart" and has had recurring roles on "Two and a Half Men" and "NCIS."
In addition to reminiscing about his long career, Wagner will also be discussing and signing his latest book, You Must Remember This (which will be on sale at the theater), a tribute to the golden age of Hollywood and the hotels and hangouts where all the A-list stars of the era congregated.
This event and others in the series are presented in affiliation with Reel Talk with Stephen Farber.  Farber brings his expertise to the discussion with guests, based on 25 years as one of the top moderators in town, interviewing hundreds of filmmakers, actors and industry moguls.  He is President of the Los Angeles Film Critics Association, and a frequent contributor to The Hollywood Reporter, The Daily Beast and Los Angeles Times.
Tickets are $13, available at box office and online at direct ticketing link:
http://www.landmarktheatres.com/los-angeles/regent-theatre/film-info/the-pink-panther