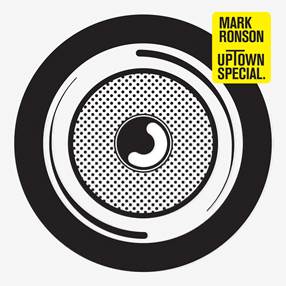 GRAMMY® award-winning producer and musician Mark Ronson will release his highly-anticipated album Uptown Special on January 13, 2015 via RCA Records. It was written and produced with fellow GRAMMY® –winning producer Jeff Bhasker (Kanye West, Drake, Alicia Keys) over 18 months in studios in London, Memphis, Los Angeles and New York City.
The majority of the album's lyrics – although not the lead hit single "Uptown Funk" with Bruno Mars – were written by Pulitzer-winning American novelist Michael Chabon. Ronson's favorite living author, Chabon became a part of the songwriting process early on and was fully immersed in the album's narrative creation, often working with Ronson and the vocalists in the recording studio.
The global phenomenon, "Uptown Funk" featuring GRAMMY® award-winning superstar Bruno Mars, premiered on November 10th and has already climbed to reach No. 5 on Billboard's HOT 100, making it Mars' 13th song in the Top 5, and Ronson's first track as an artist to break into the Top 5. The single also reached No. 1 in the UK today. PRESS HERE to watch Ronson and Mars perform the song on Saturday Night Live. Tune in to The Voiceseason finale tomorrow night to watch Ronson and Mars perform "Uptown Funk," alongside performances by Ed Sheeran, Hozier and Jennifer Hudson.