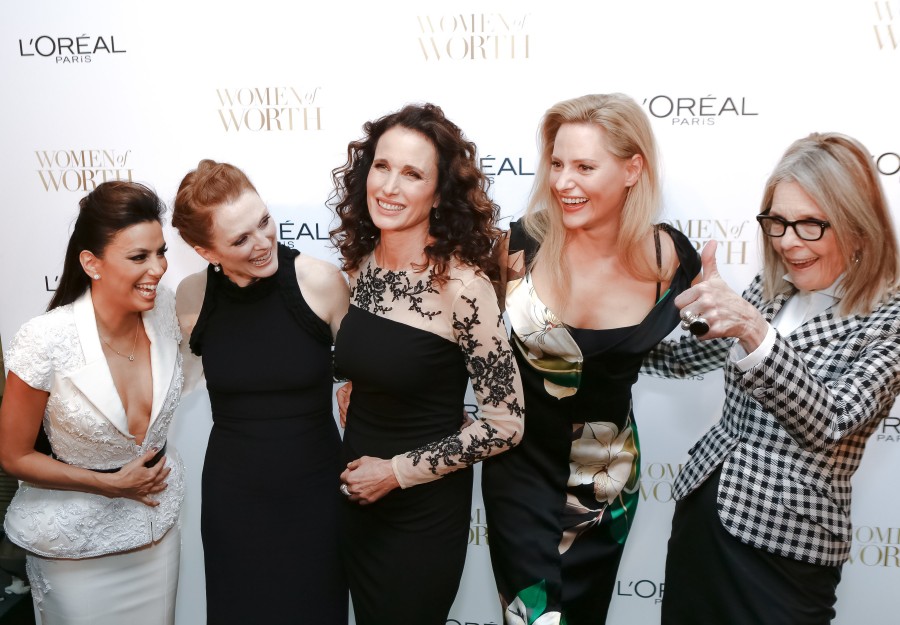 L'Oreal Paris honored 10 women for their extraordinary contributions to their communities at the ninth annual Women of Worth celebration this week and recognized Phyllis Sudman, co-founder of Simon's Fund, as the 2014 Women of Worth National Honoree. Inspired by L'Oreal Paris' iconic brand philosophy, "Because You're Worth It," the Women of Worth program shines a spotlight on women making a beautiful difference in the world through volunteerism.
Thought leaders, celebrities and leading female executives from a variety of industries convened at The Pierre in New York City to hear and share the incredible stories of these inspiring women. This year's star-studded celebration featured special presentations from L'Oreal Paris ambassadors Blake Lively, Julianne Moore, Diane Keaton, Eva Longoria, Andie MacDowell and Aimee Mullins. Hoda Kotb, Mika Brzezinski, Mary Alice Stephenson and 2013 Women of Worth Lauren Book and Kaitlin Roig-DeBellis were also in attendance to pay tribute to the 2014 Women of Worth honorees.
United in their relentless approach to tackling some of society's most pressing issues, the 10 newest Women of Worth are pushing boundaries by pursuing their passions to accomplish extraordinary feats and bring about important change. From providing diapers to low-income families, to housing young girls rescued from human trafficking, the 2014 honorees were welcomed into an esteemed community of 80 Women of Worth alumnae from the past nine years. 
Each Women of Worth honoree received $10,000 and was chosen following a rigorous nomination process led by L'Oreal Paris and the world's largest organization dedicated to volunteer service, Points of Light. The 2014 Women of Worth National Honoree, Simon's Fund co-founder Phyllis Sudman, was awarded an additional $25,000 after receiving thousands of public votes via L'Oreal Paris' social channels and website in support of her efforts to educate people about the conditions that lead to sudden cardiac arrest and death in young children and athletes. Sudman created the organization after she tragically lost her three-month-old son, Simon, and she has been on a mission ever since to check hearts and save lives.
"Every year at this event I am humbled by the unwavering determination, commitment and strength of our Women of Worth honorees.  These women are making a difference and are incredible role models for us all," said L'Oreal Paris President, Karen T. Fondu. "We are committed to bringing the stories of all of our Women of Worth – past and present – to new audiences with the vision of inspiring even more women to follow their passion and make an impact."