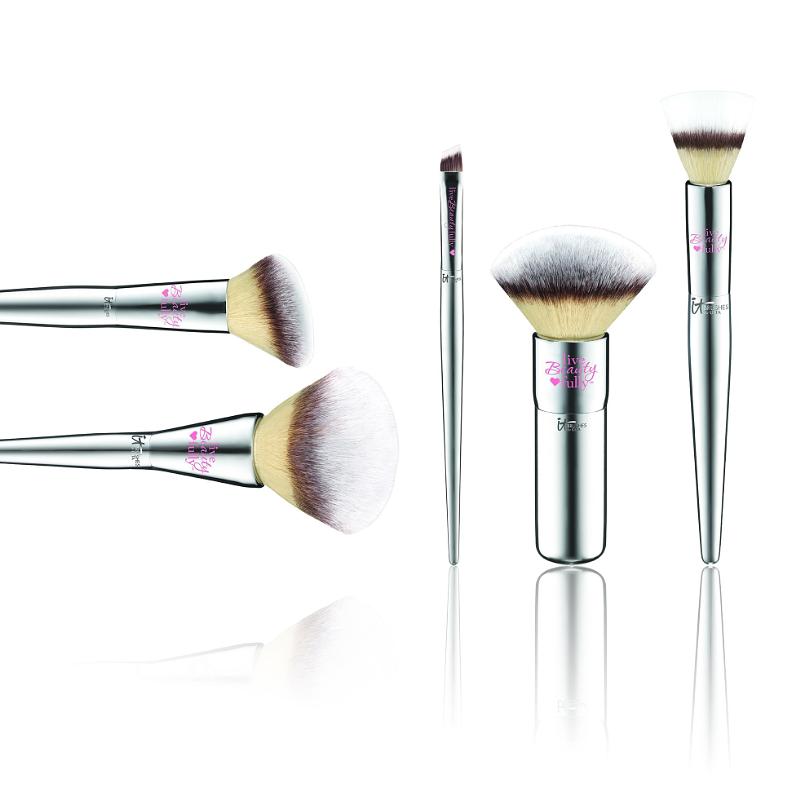 IT Cosmetics® announced its exciting new debut of an exclusive makeup brush collection which furthers the evolution of the company-wide Live Beauty Fully™ give-back initiative. The company has partnered with longtime philanthropic partner, The American Cancer Society's Look Good Feel Better® program and has committed to donate one brush to the program for each and every brush sold year round from the Live Beauty Fully™ Inspired Collection sold exclusively at Ulta Beauty.
This donation and commitment further underscores IT Cosmetics' company and brand-wide Live Beauty Fullymission which is aimed at harnessing the power of beauty to support causes that help women and women's initiatives throughout the globe.
This September, it was announced that IT Cosmetics partnered with ULTA Beauty to launch the exciting new co-branded partnership IT Brushes™ for ULTA. As part of this new partnership, IT Cosmetics designed the new signature set of 16 exclusive, handcrafted brushes for the one-for-one Live Beauty Fully Inspired Collection.
Through this one-for-one philanthropic brush initiative, the company expects to provide close to 200,000 makeup brushes annually to the Look Good Feel Better program which translates to an estimated retail value donation of $5 million dollars per year. For every one of the exclusive Live Beauty Fully Brushes purchased, IT Cosmetics will donate one brush to the Look Good Feel Better® program to help women face the effects of cancer with more confidence.
Ranging in price from $14-$34 and designed for every woman from the beauty novice to the professional makeup artist, this 16-brush give-back collection includes brushes that cover every makeup application need from powders to eyeshadows and everything in between. Each brush in the Live Beauty Fully Inspired Collection features IT Cosmetics' award-winning Heavenly Luxe® plush synthetic brush hair bristles, an elegant sleek silver tapered handle and is imprinted with the unique and empowering Live Beauty Fully pink-colored statement logo.
This cause is near and dear to the heart of IT Cosmetics Co-Founder and CEO, Jamie Kern Lima, and her entire IT Cosmetics team – many of which have had cancer affect their family. Because of this it was early on in the company's history that it began to give-back by partnering with the American Cancer Society's Look Good Feel Better Program. Starting with the award-winning and best-selling Brow Power® Universal Waterproof Brow Pencil, IT Cosmetics has made an annual commitment to the non-profit organization and donates one Brow Power pencil to the program for every one Brow Power pencil that IT Cosmetics sells at retail. To date the company has donated over $6M in Brow Power pencils to the program.