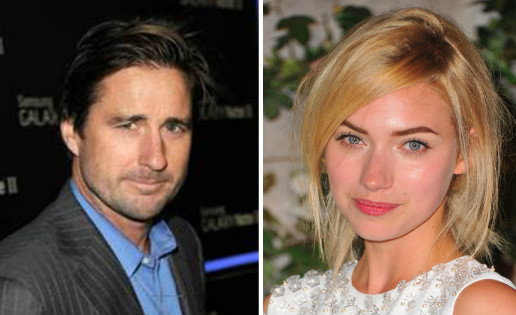 Actors Luke Wilson (Old School, The Royal Tenenbaums) and Imogen Poots (The Look of Love) are set to star in the new SHOWTIME one-hour comedy pilot ROADIES, which follows the day-to-day life of a successful rock tour as seen through the eyes of music's unsung heroes – the crew members who get the show on the road.
Academy Award® nominee Keisha Castle-Hughes (Whale Rider) and actors Rafe Spall (One Day) and Peter Cambor (NCIS: Los Angeles) have also joined the ensemble cast.  Luke Wilson will play road-weary, sleep-deprived tour manager "Bill," who is five years sober, and the best friend a band could have on the road. Imogen Poots is "Kelly Ann," a first-rate electrical tech with a great heart, questionable people skills, and a desire to make her mark on the world. Keisha Castle-Hughes will portray the band's outspoken and passionate sound mixer "Donna Mancini," who every day leads her road family in their favorite ritual, "The Song of the Day." Rafe Spall will play Reg Whitehead, a wildly successful British financial advisor sent by management to oversee the crew's budget, though he knows less than zero about the music business. Peter Cambor is "Milo," an offbeat American anglophile guitar tech, not big on personal hygiene, who revels in his road-worthy, slightly skuzzy charm.
 
ROADIES follows a hot-ticket tour, but with a simple twist: the band is in the background and the roadies take the spotlight. It's an inside look at the reckless, romantic, funny and often poignant lives of a committed group of characters who live for music and the de facto family they've formed along the way. Oscar winner Cameron Crowe wrote and will direct and executive produce the pilot (for a potential series). Emmy and Tony® nominee Winnie Holzman (My So-Called Life, Wicked, Huge), will executive produce and serve as showrunner, along with executive producers Emmy winners J.J. Abrams (Lost, Fringe, Person of Interest) and Bryan Burk (Lost, Fringe, Person of Interest). Kathy Lingg (Person of Interest, Fringe) is co-executive producer. ROADIES is produced by Bad Robot Productions, Vinyl Films and Dooley & Company Productions, in association with Warner Bros. Television.