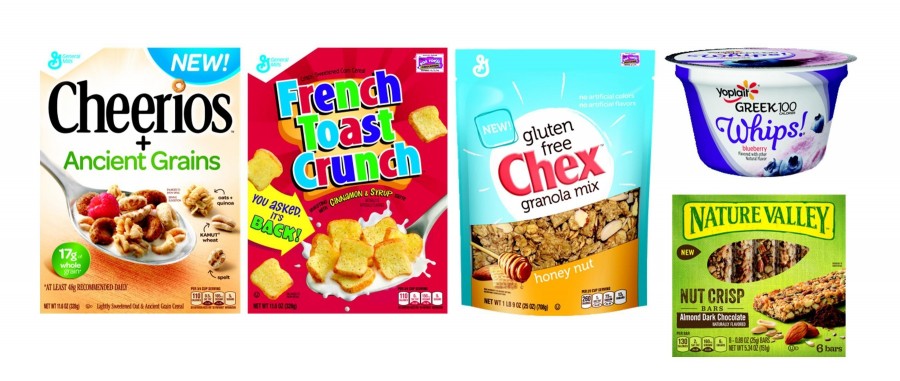 Cheerios + Ancient Grains, French Toast Crunch, Yoplait Greek 100 Whips!, Nature Valley Nut Crisps… it all sounds mouth-watering. General Mills announced their New Year snacks and cereal products… and it's pretty exciting.
In January, look for:
Cheerios + Ancient Grains – Made with toasted "O's," crunchy oat & quinoa clusters, puffed spelt and KAMUT® wheat, Cheerios is the first to bring ancient grains to the mainstream cereal aisle.
French Toast Crunch – Back by popular demand, consumer-favorite French Toast Crunch returns, complete with the mini French toast-shaped pieces flavored with cinnamon and syrup.
Chex Gluten Free Granola Mix – Chex brings yet another family favorite to the homes of gluten-free eaters with new Chex Gluten Free Granola Mix. Available in two varieties: Honey Nut and Mixed Berry Almond.
Nature Valley Protein Oatmeal – Perfect for eating on-the-go, Nature Valley Protein Oatmeal is packaged in microwavable cups and provides 10 grams of protein in each serving. Available in two flavors – Mixed Berry Crunch and Cranberry Apple Crunch – each cup includes whole grain oats, real fruit pieces and a crunchy granola topping.
Better-for-you snacking
As the lines between snacks and meals continue to blur, consumers are looking for better-for-you snacks that also taste great. General Mills has a delicious line-up of new better-for-you snacking bars with simple ingredients. The company is also introducing an entirely new whipped-style Greek yogurt. New snacks include:
Nature Valley Nut Crisps – Combining simple, wholesome ingredients including nuts and seeds, new Nature Valley Nut Crisps provide a crispy crunch with sweet and salty flavor in each bite. Available in Salted Caramel Peanut and Almond Dark Chocolate.
Food Should Taste Good Real Good Bar – This gluten-free snack bar features the brand's signature culinary creativity with layers of unexpected flavor and delicious whole nuts, seeds and real fruit pieces.
LÄRABAR über Crunchy Nut Bar – LÄRABAR über is bringing more crunch and bigger flavor by adding more whole nuts and bigger dark chocolate chunks to its line of gluten free snack bars. The brand is also introducing a new flavor: Dark Chocolate Raspberry.
Yoplait Greek 100 Whips! –Yoplait's Greek 100 Whips! is a Greek yogurt mousse with 9 grams of protein per serving in a light and airy whipped texture. Available in eight delicious flavors, including Black Cherry, Strawberry, Strawberry Cheesecake, Vanilla Cupcake, Blueberry, Raspberry, Lemon Meringue and Tropical.
Convenient meals and global flavors
To meet consumer desire for flavor and quality, General Mills is introducing these convenient meal items from brand favorites:
Totino's Bold Pizza Rolls– Totino's Bold Pizza Rolls now have a crispier crust that's also blasted with unforgettable flavor seasonings like Ranch and Cheddar.
Old El Paso Restaurante – Bringing Mexican restaurant quality and flavors home, new Old El Paso Restaurante soft shell taco kits are available in three chef-inspired flavors: Beef Carne Asada, Chipotle Chicken and

Baja Fish

.
Parampara Spice Mix (

Australia

) – For the first time, Parampara ready-to-cook spice mixes will be available at retail stores across

Australia

. Parampara's new spice mixes come in four authentic Indian flavors: Rogan Josh,

Shahi Korma

, Butter Chicken and Biryani.
Room for indulgence
As more people turn to snacks with indulgent flavors, General Mills offers a variety of treats to satisfy cravings throughout the day.
Pillsbury Minis – Available exclusively in convenience stores, Pillsbury introduces new

Pillsbury Mini

bakery snacks. Each product includes four mini treats for delicious, on-the-go eating in four bakery favorites: Cinnamon Rolls, Blueberry Muffins with Streusel, Chocolate Chip Muffins and Cinnamon Crumb Cake.
Pillsbury Mint Chocolate Chip Cookies – In line with consumers' love for all things mint-flavored, Pillsbury introduces limited edition, ready-to-bake Mint Chocolate Chip Cookies.
Häagen-Dazs (

China

) – The super-premium Häagen-Dazs ice cream brand introduces six café beverages in specialty shops inspired by illy coffee roasters. Flavors include: Vanilla, Strawberry, Green Tea, Chocolate, Macadamia Nut and Coffee.
Fiber One Protein Cookies & Cream – Delicious taste and guilt-free snacking merge with the new Fiber One Protein Cookies & Cream bar with six grams of protein and 20 percent of the Daily Value of fiber.