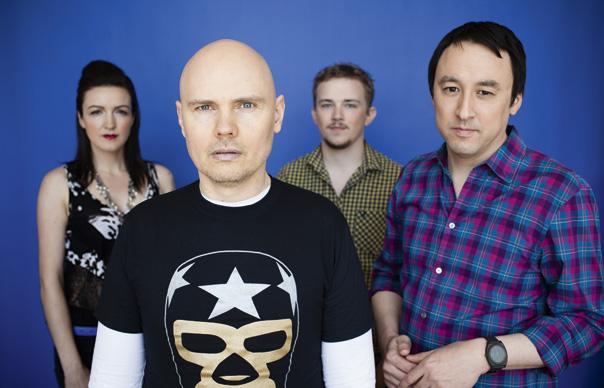 In support of their eighth studio album Monuments to an Elegy, available December 9, The Smashing Pumpkins will play a series of special shows in select cities around the globe. The tour will begin in Berlin at Kesselhaus on November 30th, and make stops at Koko's in London on December 5th, Le Trabendo in Paris on December 6th and New York's Webster Hall on December 8th (see below for list of current tour dates).  Tickets for the New York date go on sale tomorrow November 19th at 12pm EST via Ticketweb. The band wishes to inform fans to look for additional dates to be added very soon in Chicago, San Francisco, and other select markets. 
The special lineup for these performances will include Brad Wilk (Rage Against The Machine) on drums and Mark Stoermer (The Killers).  "We're absolutely thrilled and humbled to have Brad and Mark helping us out with these shows," said Corgan "and if our rehearsals are any indication they should be one-of-a-kind."  The Smashing Pumpkins have also been confirmed to play a special outdoor stage performance on ABC's Jimmy Kimmel Live! on Wednesday December 10th as well as a performance at KROQ's Almost Acoustic Christmas concert on Sunday December 14th.
The Smashing Pumpkins were recently announced as headliners for South American Lollapalooza Festival dates which include March 14/15 in Santiago, Chile, March 21/22 in Buenos Aires, Argentina and March 28/29 in Sao Paolo, Brazil.  Anticipation and praise already surround the December 9th release of Monuments to an Elegy, with Huffington Post calling it "the band's super-album."  Yesterday, Vice.com premiered the new track, "Tiberius" which they called "intimate" and "expansive" while Noisey.com declared the track "sounds like a return to form-a nod to the beloved Pumpkins sound of old with a modern twist."  Monuments To An Elegy features Tommy Lee on drums and was recorded in Chicago.  The album is produced by Howard Willing, along with Corgan and Schroeder.  Monuments to an Elegy is "an album within an album," part of their ongoingwork-in-progress Teargarden By Kaleidyscope (with Day For Night as the project's last work).
The Smashing Pumpkins tour dates:
November 30              Berlin, Germany         Kesselhaus
December 5                 London, UK                Koko's
December 6                 Paris, France               Le Trabendo
December 8                 New York, NY            Webster Hall