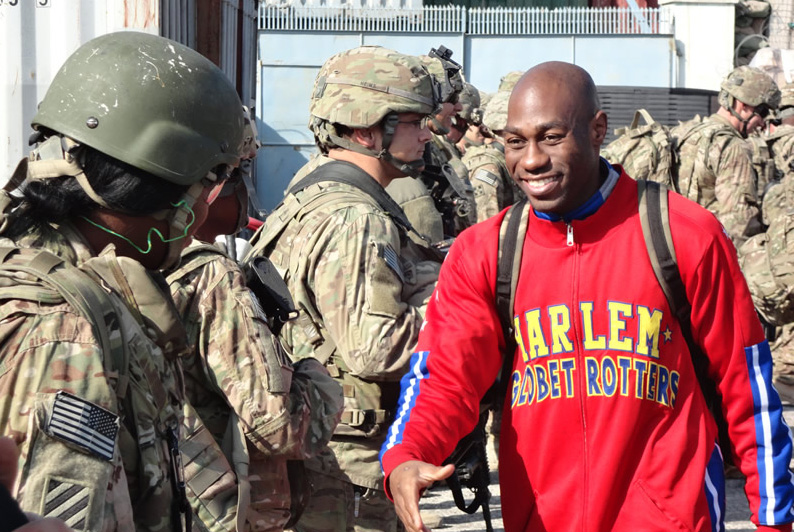 The world famous Harlem Globetrotters are bringing a slice of home to U.S. troops based overseas with an extended holiday tour of global U.S. military bases – the 13thtime in the past 11 years that the "Ambassadors of Goodwill"™ have entertained U.S. troops overseas.
Made possible by Navy Entertainment and Armed Forces Entertainment, the 11-game tour, beginning in early December, will feature shows on U.S. military bases in Japan and Guam.
Highlights of previous military tours include the Globetrotters' first-ever visit to Afghanistan in November 2012, tours of Iraq in 2009 and 2006, a visit to Guantanamo Bay, Cuba, in 2005 – and games on four active-duty U.S. aircraft carriers, including a performance on the U.S.S. Eisenhower in the Persian Gulf in 2006.
"Our military tours are one of the most rewarding experiences for any Harlem Globetrotter," said Globetrotters star, Cheese Chisholm. "The troops are always so appreciative when we come, but we are extremely grateful as well, because we consider it an honor to entertain these brave men and women that put their lives on the line every day to protect our freedom."
Globetrotter military tours have visited over 40 U.S. military bases in Afghanistan, Bahrain, Belgium, Cuba, Djibouti, Germany, Greece, Guam, Italy, Iraq, Japan, Kuwait, the Netherlands, Portugal, Qatar, South Korea, Spain, Turkey, the United Arab Emirates and the United Kingdom.
For the sixth straight year, the tour will feature a specially-created camouflage basketball, in addition to the Globetrotters' iconic red, white and blue basketball. The Globetrotters will also be playing with a camouflage basketball during a portion of each game in North America on their upcoming 2015 "Washington Generals' Revenge" World Tour as part of their Harlem Globetrotters Hometown Heroes initiative.
The Harlem Globetrotters Hometown Heroes program is designed to pay tribute to active, retired or wounded members of the military. The initiative was launched during a special exhibition game on Oct. 6, played on the flight deck of the famous Intrepid aircraft carrier in New York City.
Harlem Globetrotters Hometown Heroes will be honored during each of the 310-plus games on the team's 2015 North American Tour, which runs from Dec. 26, 2014, through May 2015. To nominate a Harlem Globetrotters Hometown Hero, and to find out when the Globetrotters will be playing in a city near you, visit www.harlemglobetrotters.com.