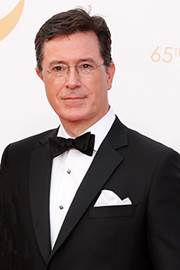 Stephen Colbert will host THE 37TH ANNUAL KENNEDY CENTER HONORS, to be broadcast Tuesday, Dec. 30 (9:00-11:00 PM, ET/PT) on the CBS Television Network. Singer Al Green, actor and filmmaker Tom Hanks, ballerina Patricia McBride, singer-songwriter Sting, and comedienne Lily Tomlin are the 2014 Kennedy Center Honorees. CBS has broadcast the special each year since its debut 37 years ago.
Colbert stated, "I am stunned to be receiving a Kennedy Center Honor at such a young age. I thought it would be years before… I'm sorry. I'm being told I am HOSTING the Kennedy Center Honors. Oh… Well, I'm glad. That makes a lot more sense."
"Stephen Colbert's creative and comedic genius is admired from Hollywood to New York to Washington, D.C.," said Jack Sussman, Executive Vice President, Specials, Music and Live Events, CBS Entertainment. "We're thrilled to have him lend his showmanship, wit and immeasurable talents to this year's THE KENNEDY CENTER HONORS."
"THE KENNEDY CENTER HONORS recognizes excellence on a national stage, and we are pleased that a man of Stephen's accomplishment will host the show. He is best in class, and will no doubt undo any solemnity that might otherwise attend the occasion," said Honors co-producer George Stevens, Jr., the recipient of 17 Emmy Awards who conceived the Honors in 1978.
Honors co-producer Michael Stevens, who has guided the production during its recent run of five consecutive Emmys for Outstanding Variety Special, stated: "On the one night each year when entertainment, the classical arts, and country converge, who better to preside over the proceedings than a D.C. native of renowned comedic talents whose cultural influence extends nationwide."
As previously announced, Stephen Colbert will succeed David Letterman as host of the LATE SHOW on CBS in 2015. He is best known as the host, writer and executive producer of the long-running, multiple Emmy and Peabody Award-winning series "The Colbert Report" on Comedy Central. Colbert has written multiple New York Times bestsellers, including I AM AMERICA (And So Can You!) (2007) and AMERICA AGAIN: Re-Becoming The Greatness We Never Weren't (2012).  He also won a Grammy Award in 2010 for his one-hour original musical holiday special, "A Colbert Christmas: The Greatest Gift of All!" Mr. Colbert's most recent appearance at the Kennedy Center Honors was during the 2011 tribute to Yo-Yo Ma.