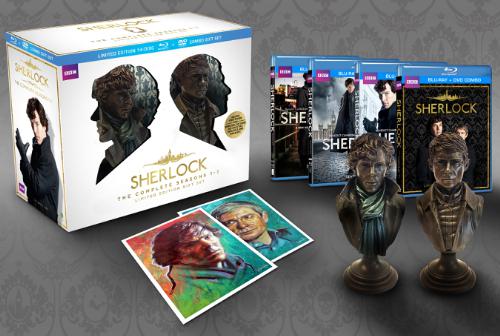 This holiday season, there is one gift that is sure to be on every Sherlock fan's wish list: Sherlock: The Complete Seasons 1-3 Limited Edition Gift Set, including a brand new bonus disc that features never-before-seen footage, new commentary from Season Three, and interview footage never before released on disc. Starring Benedict Cumberbatch (The Hobbit films, Star Trek Into Darkness) and Martin Freeman (The Hobbit films, Fargo) as the crime-solving duo of Holmes and Watson, the first ever box set of the Emmy ® Award winning PBS MASTERPIECE series will appear in stores November 4, 2014from BBC Home Entertainment.
This set includes every episode from all three seasons on both Blu-ray and DVD formats, along with the original bonus features released with each season. Additionally, the set features all new commentaries, never-before-seen outtakes, a deleted scene, and exclusive collectibles including limited edition art cards and busts of Sherlock Holmes and John Watson. This is the ultimate gift set to keep fans guessing until the next game is afoot.
All New Bonus Materials Include:
Never-before-seen Outtakes from Seasons Two and Three
All New Commentary and an exclusive deleted scene from  Season Three
BBC Archive Interviews with

Benedict Cumberbatch

,

Martin Freeman

,

Steven Moffat

(Doctor Who, Coupling) and

Sue Vertue

(Coupling, The Vicar of Dibley) from the time of the initial Season One premiere (new to disc)
"Unlocking Sherlock": a 60-minute behind-the-scenes program for Season Three (new to disc)
"Sherlock Uncovered": three 25-minute behind-the-scenes featurettes, one for each episode of Season Three (new to disc)
Exclusive Collectibles Include:
Limited edition collectible busts of

Sherlock Holmes

(

Benedict Cumberbatch

) and

John Watson

(

Martin Freeman

)
Two limited edition collectible Art Cards
Sherlock Holmes was always a modern man in an old world. Now he's back as he should be: edgy, difficult and dangerous, as Benedict Cumberbatch shows him in a new, contemporary light. Sherlock can tell a software designer by his tie and an airline pilot by his thumb. He has a uniquely analytical brain unlike anyone else in the world – a man who staves off boredom by solving crimes. When a chance encounter brings soldier John Watson (Freeman) into Sherlock's life, it's apparent the two men couldn't be more different, but Sherlock's intellect coupled with John's pragmatism soon forge an unbreakable alliance. Across three thrilling, scary, action-packed and highly-entertaining seasons, Sherlock and John navigate a maze of cryptic clues and lethal killers to get at the truth. With sparkling scripts and unforgettable performances, this is a contemporary take on the classic Arthur Conan Doyle stories for a new generation. The finale of season three, "His Last Vow," recently earned seven Primetime Emmy ® Award wins including Outstanding Lead Actor in a Miniseries or Movie for Benedict Cumberbatch, Outstanding Supporting Actor in a Miniseries or Movie for Martin Freeman, and Outstanding Writing for a Miniseries, Movie or Dramatic Special for Steven Moffat.
Sherlock is a Hartswood Films Production for BBC/Cymru Wales co-production with MASTERPIECE.