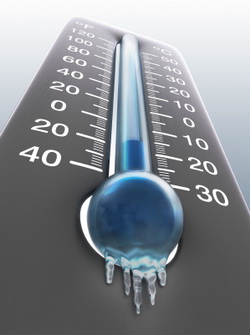 We can be thankful for our sunny skies and consistent warm tempuratures here in Los Angeles, California; but a good portion of the U.S. is thanking their warm pair of gloves and thick scarves right about now. According to www.Weather.com, arctic air is now firmly entrenched over much of the nation's mid-section, Northwest and, finally Northeast. 
Tempuratures are hitting record lows. This weekend in New York City, they are predicting the coldest weather since March; dropping from the mid 40s fahrenheit to a freezing 32 degrees. On Thursday evening, Southern Connecticut residents were expecting the first snowfall of 2014. Weather experts are saying this is just a taste of what's coming.
Throughout the U.S. temperatures are below zero. Burlington, Colorado dipped to -10 Thursday, setting a new record low for the month of November. Denver's high of 6 on Nov. 12 was the coldest daily high so early in the season. Casper, Wyoming, dipped to -27 this week, beating their all-time November record low of -21 on Nov. 23, 1985.
In parts of Montana, thermometer's read -21. To prepare for a cold front in your neighborhood, go to http://www.weather.com/ for the latest.