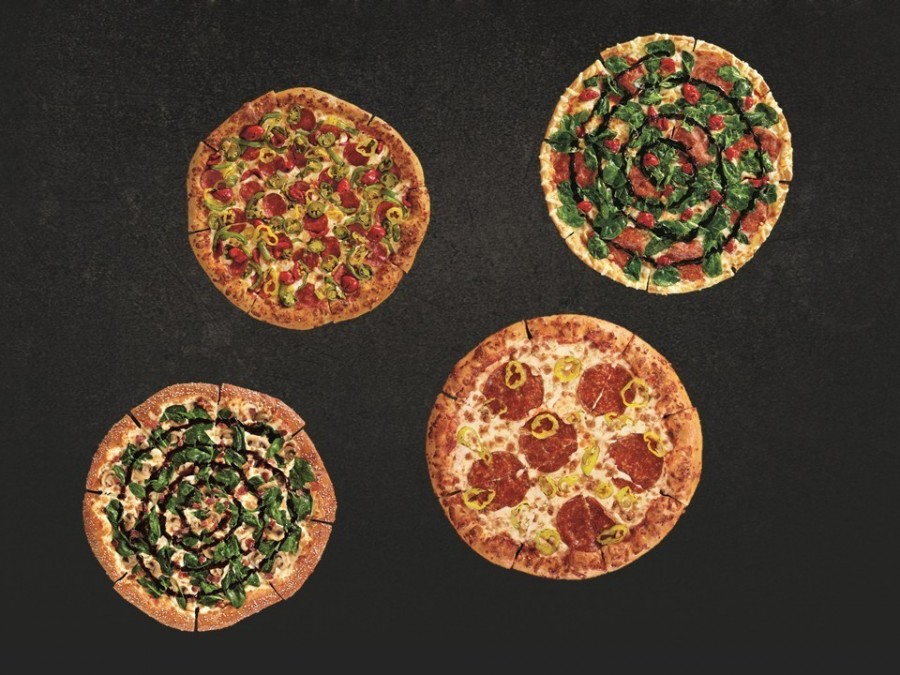 Pizza Hut went all out for their new generation of pizzas. Ten new crust flavors. Five new premium ingredients. Four new flavor-packed drizzles. New Skinny Slice Pizzas. Eleven new specialty recipes. All available with six signature sauces. Plus, a revamped digital experience at pizzahut.com, a new logo, new box and relaxed uniforms.  
"Pizza Hut has been defining what's possible with pizza since 1958 and our newest changes are the most significant we've made in our history as we once again look to take the entire category to another level," said David Gibbs, CEO, Pizza Hut.
Available nationwide Wednesday, November 19, the new menu – dubbed the "Flavor of Now" – will feature all the Pizza Hut classics like Meat Lover's®, Stuffed Crust, and Supreme that long-time fans love, but transform what consumers will come to expect from pizza with bolder flavors and nearly infinite possibilities (more than 2 billion) to customize. The Flavor of Now menu includes 10 incredible, all-new crust flavors like Honey Sriracha, Salted Pretzel and Ginger Boom Boom, six signature sauces like Premium Crushed Tomato and Buffalo, new premium ingredients like Salami, Fresh Spinach and Peruvian Cherry Peppers and delicious drizzles like Balsamic.
Those who prefer to leave the culinary imagination to Pizza Hut won't be disappointed, as the new menu introduces 11 new "Explore Flavor" recipes, like the 7-Alarm FireTM (premium crushed tomato sauce, pepperoni, sliced banana peppers, Peruvian cherry peppers, sliced jalapeno peppers and fresh green peppers on a Hand-Tossed Crust with a fiery red pepper crust flavor) and the Old Fashioned MeatbrawlTM (classic marinara sauce topped with classic meatballs, fresh red onions and diced Roma tomatoes flavored up with Hut Favorite crust flavor on Pan crust).
Skinny Slice Pizza
Pizza Hut is also conducting a nationwide rollout of Skinny Slice Pizzas, made from a thinner version of Pizza Hut's Hand-Tossed Crust. Five special recipes for Skinny Slice Pizzas have been hatched like the Skinny ClubTM (creamy garlic parmesan sauce, hardwood-smoked ham, diced Roma tomatoes and fresh spinach with a toasted Asiago crust flavor). All five special recipes feature 250 calories or less per slice.
A Whole New Pizza Hut
While the expanded menu will be the most noticeable change at Pizza Hut right away, it's far from the only one. Online ordering will not only be available in both English and Spanish on mobile and Web, but it'll be more interactive and visual thanks to a revamped digital experience, making it easier to quickly choose from the expanded menu.
Pizza Hut will look different, too, as the iconic red roof logo has been contemporized, along with delivery boxes, cups and even employee uniforms.
All of these changes will be heralded in a national advertising campaign celebrating the "Flavor of Now."
List of Menu Changes
Ingredients: Sliced Banana Peppers, Peruvian Cherry Peppers, Fresh Spinach, Premium Salami, Classic Meatball
Crust Flavors: Hut Favorite, Toasted Asiago, Honey Sriracha, Salted Pretzel, Toasted Parmesan, Fiery Red Pepper, Toasted Cheddar, Garlic Buttery Blend, Ginger Boom Boom, Get Curried Away
Sauces: Classic Marinara, Premium Crushed Tomato, Garlic Parmesan, Buffalo, Barbeque, Honey Sriracha
Drizzles: Balsamic, Honey Sriracha, Barbeque, Buffalo
Specialty Recipes:
BBQ Bacon Cheeseburger (Barbeque sauce topped with classic meatballs, hardwood smoked bacon, fresh red onions and diced

Roma

tomatoes – flavored up with a toasted cheddar on the crust edge and a barbeque sauce drizzle.)
Old-Fashioned Meatbrawl™ (Classic marinara sauce topped with classic meatballs, fresh red onions and diced

Roma

tomatoes – flavored up with our Hut Favorite on the crust edge.)
7-Alarm Fire™ (Premium crushed tomato sauce topped with pepperoni, sliced jalapeno peppers, Peruvian cherry peppers, sliced banana peppers and fresh green bell peppers, flavored up with fiery red pepper on the crust edge.)
Sweet Sriracha Dynamite (Honey Sriracha sauce topped with grilled chicken, sliced jalapeno peppers, sweet pineapple and Peruvian cherry peppers – flavored up with honey Sriracha on the crust edge and a honey Sriracha sauce drizzle.)
Cock-A-Doodle Bacon™ (Creamy garlic Parmesan sauce topped with grilled chicken, hardwood smoked bacon and diced

Roma

tomatoes – flavored up with toasted Parmesan on the crust edge.)
Giddy-Up BBQ Chicken™ (Barbeque sauce topped with grilled chicken, hardwood smoked bacon and fresh red onions – flavored up with toasted cheddar on the crust edge and a barbeque sauce drizzle.)
Buffalo State of Mind™ (Buffalo sauce topped with grilled chicken, sliced banana peppers and fresh red onions – flavored up with toasted cheddar on the crust edge and a Buffalo sauce drizzle.)
Garden Party™ (Premium crushed tomato sauce topped with fresh green bell peppers, fresh red onions, fresh mushrooms, diced

Roma

tomatoes and fresh spinach – flavored up with our Hut Favorite on the crust edge and a balsamic sauce drizzle.)
Pretzel Piggy™ (Creamy garlic Parmesan sauce topped with hardwood smoked bacon, fresh mushrooms and fresh spinach – flavored up with a salted pretzel crust edge and balsamic sauce drizzle.)
Cherry Pepper Bombshell™ (Premium crushed tomato sauce topped with premium salami, Peruvian cherry peppers and fresh spinach – flavored up with toasted Asiago on the crust edge and a balsamic sauce drizzle.)
Hot and Twisted™ (Premium crushed tomato sauce topped with premium salami, sliced jalapeno peppers and fresh red onions – flavored up with a salted pretzel crust edge.)
Skinny Slice Recipes:
Skinny Beach™ (Premium crushed tomato sauce with grilled chicken, fresh red onions, Peruvian cherry peppers and fresh spinach.)
Skinny with a Kick™ (Premium crusted tomato sauce topped with pepperoni, sliced jalapeno peppers, Peruvian cherry peppers, fresh green bell peppers and fresh red onions – flavored up with fiery red pepper on the crust edge.)
Skinny

Italy

(Classic marinara sauce topped with classic meatballs, diced

Roma

tomatoes, fresh mushrooms, fresh red onions and fresh spinach – flavored up with a balsamic drizzle.)
Skinny Luau™ (Premium crushed tomato sauce topped with grilled chicken, slow-roasted ham, fresh green bell peppers and sweet pineapple.)
Skinny Club™ (Creamy garlic Parmesan sauce topped with grilled chicken, slow-roasted ham, diced

Roma

tomatoes and fresh spinach – flavored up with toasted Asiago on the crust edge.)