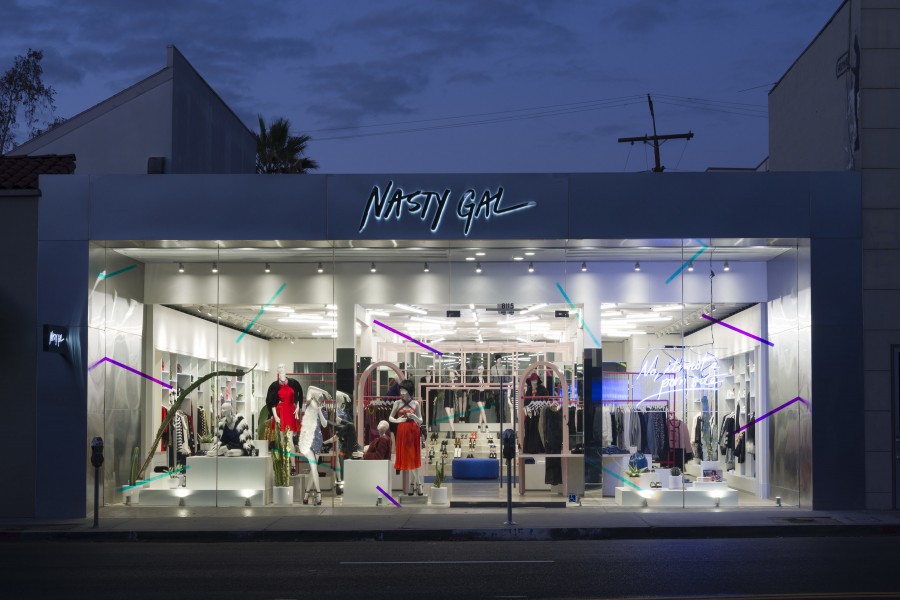 Nasty Gal, the global online destination known for fashion-forward and free-thinking clothing, opens the doors of its first retail location today at 8115 Melrose Avenue in the heart of Hollywood.
"We've been having a dialogue with our gal for eight years this month and to celebrate that, we're taking the conversation offline," explains Sophia Amoruso, Nasty Gal founder and CEO.
The brick and mortar store offers a curated selection of apparel, shoes, intimates, accessories, tech and gifting, as well as exclusive vintage pieces that Nasty Gal is known for. Designed by renowned architect Rafael de Cardenas, the 3,500 square foot space takes inspiration from concert stages with reflective surfaces and open, cage-like structures that suggest both exhibitionism and privacy. 
Located in the heart of the upscale Melrose shopping area, the Nasty Gal store will feature a shoe salon, magazine library and live cactus garden. The store is centralized around the try-on experience, with a mirrored glass structure at the center of the space which houses five fit rooms. The rooms will allow voyeuristic shoppers to try on clothes behind two-way mirrored doors, allowing them to see out with complete privacy.
On the heels of the #GIRLBOSS book tour, Amoruso realized how important it is for herself and the Nasty Gal brand to engage with customers in real time. "We are engineering shareable moments, both visual and experiential, into our stores," says Amoruso. "We are creating real-life social media by engaging the community we have built purely online. Where that goes is truly limitless."
Known for regularly updating its website with new offerings, Nasty Gal will continue this model in its retail space by receiving new arrivals several times a week. Store merchandising will not only focus on the Nasty Gal heritage, but promote key product themes of the season.
"The brand is visceral. We have always been about bold personalities, a strong look, and a specific sound, and this is the first time we will be combining all of those elements into a real life, physical experience," says Amoruso.
To mark the opening of the Los Angeles store, Nasty Gal has collaborated with genre-defying artist-of-the-moment Doug Rickard on an exclusive and provocative shopping bag. Inspired by B-list buxom blondes and bronzed porn stars of the '70s and '80s, Rickard imagined a playful, pinup-inspired design that pokes fun at Nasty Gal's tongue-in-cheek name, and pays homage to its nostalgic roots.
Nasty Gal Melrose is located at 8115 Melrose Avenue, Los Angeles, CA, 90046. Store hours are Monday-Saturday 10AM-7PM and Sunday 11AM-6PM; store phone number is 323.658.1010 and email is melrose@nastygal.com.