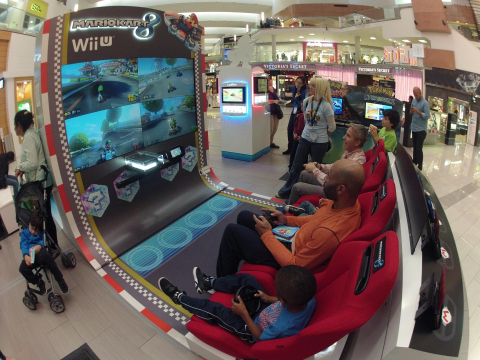 From Nov. 24th through Dec. 21st, Nintendo will visit 16 malls across the country to offer holiday shoppers a great escape featuring hands-on play time with the season's must-have games for Wii U, Nintendo 3DS and Nintendo 2DS. Visitors can even check out amiibo, Nintendo's new foray in the toys-to-life category, which are based on some of its most recognizable video game characters.
A fun, interactive space tailored to kids – and kids-at-heart – will feature many Nintendo games, including a Mario Kart 8 tournament played on a large, high-definition display. Visitors can also battle it out in Super Smash Bros. for Wii U. Additionally, free giveaways, including the Nintendo Holiday Gift Guides, will be available to consumers, while supplies last.
The scheduled lineup of Wii U games includes Super Smash Bros. for Wii U, Mario Kart 8, Hyrule Warriors, Captain Toad: Treasure Tracker, Super Mario 3D World, Skylanders: Trap Team and Nintendo Land.
For Nintendo 3DS, fans can expect to see Super Smash Bros. for Nintendo 3DS, Pokémon Omega Ruby, Pokémon Alpha Sapphire, Mario Kart 7, The Legend of Zelda: A Link Between Worlds, Kirby: Triple Deluxe, Tomodachi Life, Yoshi's New Island and Sonic Boom: Shattered Crystal.
Join the fun of Nintendo's holiday shopping experience at the following locations:
Oak Park Mall in Overland Park, Kansas
Arrowhead Towne Center in Glendale, Arizona
Queens Center in Elmhurst, New York
Tysons Corner Center in McLean, Virginia
Washington Square in Portland, Oregon
Mall of America in Bloomington, Minnesota
Memorial City Mall at Memorial City in Houston
The Florida Mall in Orlando, Florida
Grapevine Mills in Grapevine, Texas
King of Prussia in King of Prussia, Pennsylvania
South Shore Plaza in Braintree, Massachusetts
Woodfield Mall in Schaumberg, Illinois
Westfield North County in Escondido, California
Westfield Southcenter in Seattle
Westfield Valley Fair in Santa Clara, California
Westfield Culver City in Culver City, California
The Holiday Gift Guide can also be found online at http://happyholidays.nintendo.com.