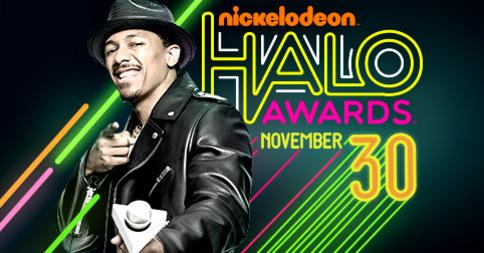 As Nickelodeon celebrates this year's five HALO Awards honorees this Nov. 30th for their commitment to service; the network is adding two pro-social elements to the telecast that will let audiences deepen their connections and commitments to the causes they care about.
Nickelodeon is taking its HALO Effect initiative into 2015 with $50,000 of grants to fund kids' charitable efforts, and is also launching on Nov. 15 a pro-social project with DoSomething.org designed to connect kids and teens to the community service initiatives championed by this year's five Nickelodeon HALO Awards honorees. The HALO Awards is Nickelodeon's annual event that recognizes real-life kids who are doing extraordinary things in their communities and 'Helping and Leading Others' (HALO). 
This year's HALO honorees—Lulu Cerone, Yash Gupta, Cassandra Lin, Nicolas Lowinger and Alanna Wall—are being commended for their work to raise awareness across numerous issues relevant to kids today, including environmental sustainability, volunteerism, helping the underprivileged, and building awareness for youth philanthropy. Kids and teens can visit DoSomething.org/HALO and click on the profile of each HALO honoree to sign up and participate in activities that include creating activity books for kids in hospitals, encouraging friends and family to decrease oil waste, donating gently worn eyeglasses and backpacks, and teaching internet safety tips to friends and family.  Additionally, users can upload images showcasing how they participated in these activities and earn an opportunity to be nominated for Nickelodeon's year-round pro-social initiative, HALO Effect.
The HALO Effect initiative recognizes one deserving teen every month for "helping and leading others" (HALO) in their community.  Over the past year HALO Effect has awarded more than $50,000 to 10 kids across the country to help fund their charitable organization of choice. HALO Effect awards a $5,000 grant to a charity of each teen's choosing. Teens selected are also featured in an on-air profile on TeenNick and highlighted on TeenNick.com throughout each month. This year's HALO Awards will showcase the work of the 2014 HALO Effect winners during the hour-long concert special.  
"The Nickelodeon HALO Awards celebrates what is truly a generational movement among kids and teens about the need to address the most pressing issues of our time," said Marva Smalls, Executive Vice President of Public Affairs, Nickelodeon Group.  "Our hope is that the platform we are giving this year's HALO Awards honorees will serve as inspiration to kids across the country."