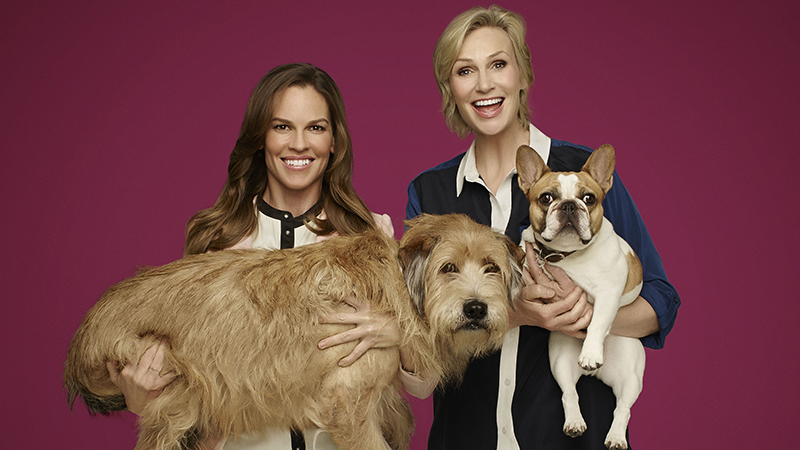 Emmy Award winner Jane Lynch (GLEE) is set to co-host FOX'S CAUSE FOR PAWS: AN ALL-STAR DOG SPECTACULAR (previously titled THE GREAT AMERICAN DOG-A-THON), alongside executive producer and co-host Hilary Swank, on Thanksgiving night, Thursday, Nov. 27 (8:00-10:00 PM ET/PT) on FOX.
In addition, PEDIGREE® Food for Dogs will be presenting the "Shelter Hero of the Year" award, a special award honoring an individual who has dedicated his/her life to making sure shelter dogs receive the love, care and resources they need to find their forever home.
During the two-hour special, viewers also will be provided with information regarding adoptable animals in their local areas and have the opportunity to make donations to the Petfinder Foundation, an independent nonprofit organization that supports shelters and rescue groups nationwide. Viewers can donate via a text number provided during the broadcast or online via fox.com/causeforpaws. Donations will be accepted during the broadcast and for a period of time after the show.
 
FOX'S CAUSE FOR PAWS: AN ALL-STAR DOG SPECTACULAR will include awards and celebrity presentations showcasing a variety of canine categories, including Cutest Puppy, Best Celebrity/Dog Lookalike, Funniest Dog, Most Talented Dog, Best Talking Dog and Best Viral Dog Video.
 
This special for the whole family will be a celebration of rescue dogs and the joy they bring to our lives. It will feature inspiring and funny stories of rescue dogs, honor the best viral videos starring rescue pups, include games featuring dogs and celebrity participants and feature stories honoring people who dedicate their lives to rescuing animals in need.
 
FOX'S CAUSE FOR PAWS: AN ALL-STAR DOG SPECTACULAR also will promote awareness of many dog-related issues and topics to encourage people to choose to adopt one of the more than eight million rescue animals currently in the U.S. shelter system, patiently waiting to become part of a loving family in a forever home. With millions of dogs left behind in animal shelters nationally, your new best friend could be waiting for you.
Get updates about FOX'S CAUSE FOR PAWS: AN ALL-STAR DOG SPECTACULAR on FOX.com at fox.com/causeforpaws, on Facebook at facebook.com/CauseForPawsFOX and on Twitter @CauseforPawsFOX and join the discussion using #foxcauseforpaws.