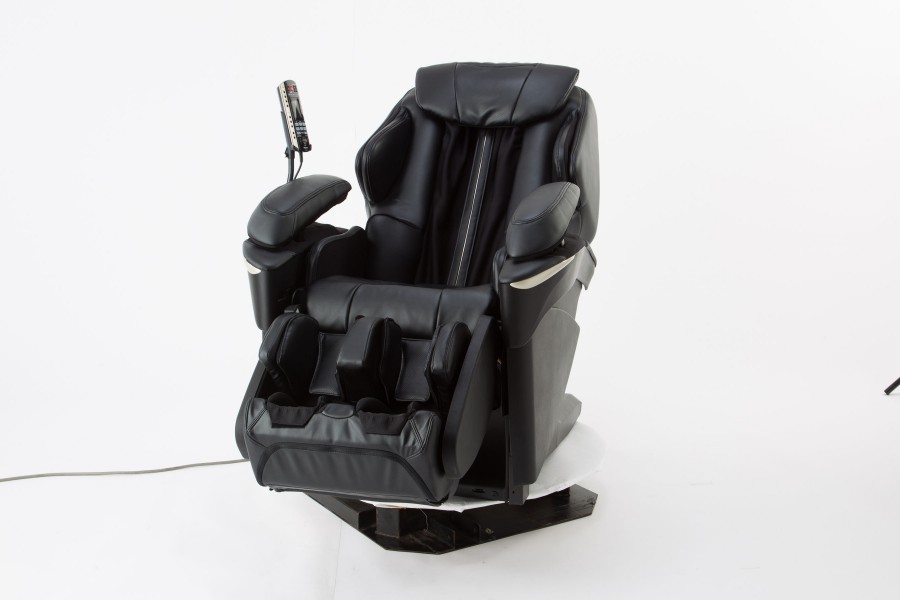 For dedicated couch potatoes, this could be the most important piece of furniture you will ever own. Panasonic announced the launch of the Real Pro ULTRA™ 3D Massage Chair with 3D Technology (EP-MA73KU). The Real Pro ULTRA, the latest in Panasonic's line of high-end, critically-acclaimed full-body massage chairs, will debut tomorrow at Hammacher Schlemmer's Landmark NYC Store at Rockefeller Center (147 East 57th Street) and will also be available on-line at www.panasonic.com (SRP $8,999.99).
The Real Pro ULTRA is like having your own personal masseuse in your home, featuring a full-body massage which utilizes 3D massage technology — multi-directional, double-heated rollers and focused stimulation for soothing hands, legs and feet.
Full-Body Massage with Relaxing, Multi-Directional Rollers
Internal sensors in this luxury, full-body massage chair create a virtual map of your body's contours to guide multi-directional rollers to precise locations along the back and spine.  The rollers also help to increase circulation and stretch, soothe and relax tense, tired muscles.
Double-Heated Rollers Simulate Hot Stone Therapy
Double-heated multi-directional rollers deliver concentrated warmth and relaxing pressure to the neck, back and shoulders to simulate the relief of hot stone therapy.
UltraKnead™ Replicates a Masseuse's Junetsu Techniques
Rejuvenating rollers traverse the individual contours of your back – from neck to waist – to gently press, knead, loosen and invigorate tight muscles in much the same way a professional masseuse performs a relaxing, restorative Junetsu massage.
Focused Stimulation for Soothing Hands and Feet
Hand and arm massagers in the armrests, plus airbags within the chair's midsection, invigorate muscles in the hips, thighs, legs and calves to provide stimulation and relief for tired, overworked hands and feet.
Advanced Massage Settings
A convenient remote control allows you to select from six pre-set and six manual massage programs. 
Pre-set massage options include:
Refresh:  A light, revitalizing massage utilizing tapping.
Deep:  A soothing massage course kneads and loosens tired, stiff muscles.
Shiatsu:  Provides strong, relaxing, deep-tissue pressure and stretching using two massage heads.
Hip:  Sophisticated torso and pelvic massage technique kneads the back muscles while airbags loosen the trunk muscles. 
Neck/Shoulder:  A stimulating yet soothing course relaxes the neck and shoulder muscles.
Lower Back:  A middle to lower back massage course.
Manual massage options include:
Seat & Hips:  Compresses and soothes buttocks, outer thighs and waist and includes a soft, adjustable hip acupoint module.
Calves:  Applies gentle pressure to relieve tightness and enhance circulation.
Arms and Shoulders:  Gradually stretches shoulder muscles to remove tension and enhance flexibility. 
Arms & Palms:  Applies targeted pressure, motion and warmth to relieve tension.
Leg Stretch:  Alleviates stiffness in the lower back, hips and thighs.  A unique airbag system in the ottoman portion of the chair uniformly pressures the lower legs as they are lowered and raised in 20-degree increments.
Reflexology:  Delivers a professional-style, personalized foot massage.  The EP-MA73 utilizes adjustable and removable plates to sooth and stimulate the vital reflex points in your feet to enhance energy and blood flow throughout your body.
For more information about Panasonic's complete line of personal care products visit www.panasonic.com.