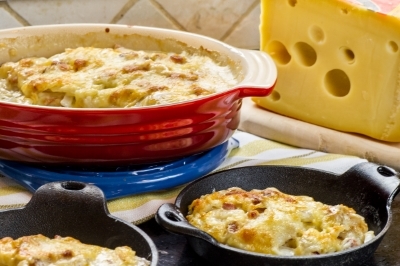 LATF can feel the holiday spirit. It's never too early to think about what to serve around the Thanksgiving table. Here is a delicioud recipe for Country Potato Gratin by Gwen Pratesi, a culinary-travel writer and www.Bunkycooks.com blogger
The Gratin gets its rich creamy taste using a combination of chicken broth, milk, heavy cream and a good melting cheese.  Country ham is also suggested, subtly infusing this outstanding gratin with smoky applewood (or hickory) aroma.
(Serves 6)
What You Need:
6 ounces good country ham, 1/4-inch chopped
2 large russet potatoes (1 3/4 – 2 pounds), sliced 1/8-inch thick
1 cup low sodium chicken broth (Do not use regular chicken broth)
1 cup whole milk1 bay leaf
2 cups shredded Jarlsberg cheese, divided
1/2 small onion, thinly sliced
1/2 cup heavy cream
Special equipment: 2-quart casserole
What To Do:
Preheat oven to 375 degrees.  Butter a 2-quart casserole and set aside.
Heat a medium size skillet over medium-high heat.  Place ham in the pan and brown until some of the pieces are slightly crispy and the fatty pieces begin to brown.  Set the pan aside, leaving the meat in the rendered fat.
Place sliced potatoes, chicken broth, whole milk, and bay leaf in a medium saucepan.  Bring the liquids to a boil and simmer for 3 – 5 minutes until the potatoes start to become tender, occasionally basting the potatoes with the liquids so they do not dry out. Do not overcook or else they will become mushy.  Drain most of the liquid from the saucepan, reserving some to keep the potatoes moist.
Layer half of the potatoes to cover bottom of casserole dish.  Sprinkle potatoes with about 2/3 of the cooked country ham pieces, thin sliced onion, and 1 cup of cheese.  Layer remainder of the potatoes evenly over the top, sprinkling the rest of the country ham over the potatoes, and finish with remaining cheese.  Pour  heavy cream over the top of whole casserole and press mixture down so that it flattens slightly and moistens ingredients.
Bake at 375 degrees for 45 to 50 minutes until mixture is bubbling and the top is nicely browned.  Let sit about 10 to 15 minutes before serving.
Recipe and Photo Courtesy of www.bunkycooks.com