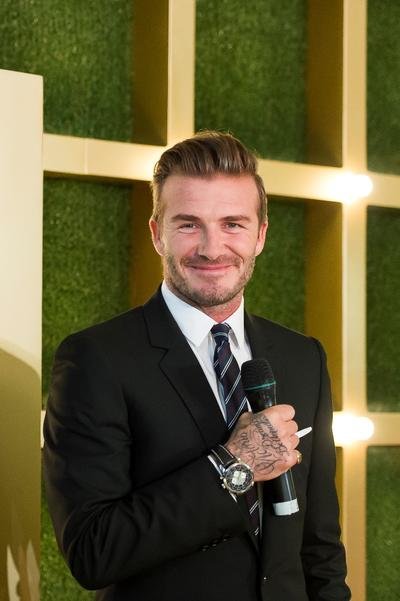 This weekend David Beckham opened the newly-renovated Shoppes at Four Seasons, Macao's most exclusive luxury duty free shopping mall. Already noted as Asia's most prestigious high-end retail destination, the mezzanine has undergone a major $100 million revamp, and now boasts improved accessibility, circulation and sight-lines, providing a more vibrant and spacious ambience for its discerning clientele.
Beckham said, "It's wonderful to be back in Macao and a real honour to be asked to open Shoppes at Four Seasons, one of the most successful luxury shopping malls anywhere in the world. I encourage everybody who visitsMacao to pay a visit and check out your favourite luxury brands!"
Known as Macao's first luxury duty free shopping mall, Shoppes at Four Seasons opened in 2007 and is today synonymous with the pinnacle of luxury shopping inAsia. Following the renovation, the mall houses 260,000 sq. ft. of retail space and an expanded tenancy mix of over 140 luxury brands from around the world. These include Bally, Dolce & Gabbana, Escada, Fratelli Rossetti, Jimmy Choo, Kurt Geiger, Lana Marks, MCM, Marina Rinaldi, and Rene Caovilla.
The mall also now features an additional seven duplex stores, totaling 39,000 sq. ft. It also boasts the world highest-grossing retail space, at ove rUS $5,500 per sq. ft. on average.
Sands Retail's vast product portfolio spans a number of David Beckham's preferred brands, including H&M, which is opening its first store inMacao next year in Shoppes at Venetian; luxury apparel brand Belstaff; Swiss watchmaker Breitling; and global premium drinks maker Diageo. All of these brands are either available or projected to be available shortly at Sands Retail properties.
"It's always exciting to welcome David back to Macao, and we're honoured to have a business partner of his stature and global reach," said David Sylvester, Senior Vice-President, Retail, Las Vegas Sands Corp. "With so many shared ties to some of the most stylish and sought-after brands in the world, our relationship with David is the perfect synergy, and I believe the relationship will continue to be a mutually-rewarding one for many years to come."
www.sandsretail.com