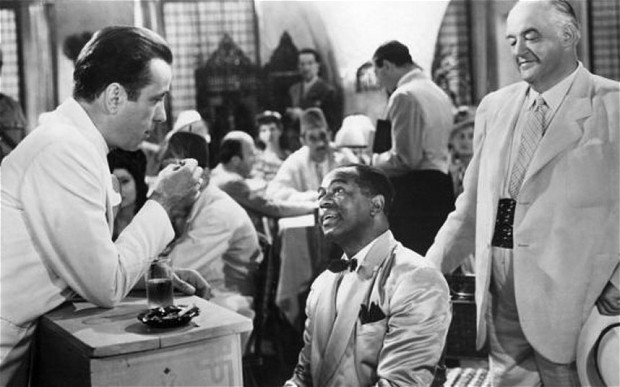 "You must remember this." When Dooley Wilson sang those four words back in 1942, the salmon-colored piano at which he was sitting was suddenly transformed into a cherished movie treasure. That iconic piano is now one of more than 30 items from Warner Bros.' romantic wartime drama Casablanca slated to be auctioned this fall by Turner Classic Movies and international fine art auctioneers, Bonhams. TCM Presents: There's No Place Like Hollywood, a definitive auction of rare movie collectibles, will also feature the interior and exterior doors from Rick's Café Américain, the nightclub where much of the action in Casablanca takes place.
The auction will be held at Bonhams in New York on Monday, Nov. 24, along with preview exhibitions in New York (Nov. 20-24) and at their Los Angeles location (Nov. 6-9).
 
The Casablanca collection was consigned for the auction by a private collector. The piano at the center of the collection was featured during a performance of Max Steiner's music from film at the Hollywood Bowl in 2006, a testament to the instrument's cherished status. Other Casablanca items featured in TCM and Bonhams' auction will be passports, transit papers and other documents created for the film; a final draft screenplay; photos signed by cast members; production memos; an original Casablanca pressbook; and more.
 
As one of the leading authorities on classic film, TCM is curating this year's auction, highlighting the fascinating stories behind the memorabilia and providing the cultural and historical context for each remarkable treasure. In conjunction with the event, TCM will also contribute a portion of the auction proceeds to The Film Foundation, an organization dedicated to protecting and preserving motion picture history.
 
"Casablanca has long been one of the most beloved of Hollywood's wartime classics and continues to be one of the most popular films in the Turner Classic Movies library," said Dennis Adamovich, senior vice president of digital, affiliate, lifestyle and enterprise commerce at TCM, TBS and TNT. "With the addition of this extraordinary collection of Casablanca memorabilia, TCM and Bonhams' There's No Place Like Hollywood auction is going to be a truly unforgettable and historic event."
 
"Bonhams is thrilled to represent this remarkable Casablanca collection, certainly one of the most significant film memorabilia collections still in private hands," says Dr. Catherine Williamson, director of Entertainment Memorabilia at Bonhams.
 
The Casablanca collection joins many other noteworthy items available for bid during TCM and Bonhams' auction. Previously announced items include a test dress and pinafore designed for Judy Garland in The Wizard of Oz (1939); an Adrian-designed test cape for The Wizard of Oz's flying monkeys; one of Jane Russell's costumes from the Howard Hughes-produced The Outlaw (1943); a costume worn by Rita Hayworth while singing "Amado Mio" in Gilda (1946); costumes worn by Barbra Streisand in the films On a Clear Day You Can See Forever (1970), The Way We Were (1973) and Yentl (1983); a full-length portrait of silent screen star Rudolph Valentino as the Black Falcon, painted by Federico Armando Beltrán Massés in 1925; and a copy of the Touch of Evil (1958) screenplay owned by producer Albert Zugsmith.
 
Last November, TCM and Bonhams teamed up on their first auction together, the highly successful What Dreams Are Made Of: A Century of Movie Magic at Auction, as Curated by Turner Classic Movies. The auction included such items as the 1940 Buick Phaeton featured in the dramatic final scene of Casablanca and a Maltese Falcon statuette used in John Huston's classic film, which set a new milestone for a movie prop by drawing a record-setting bid of over $4 million.
 
Bonhams recently returned for the third year as an official partner of the TCM Classic Film Festival. As part of its sponsorship each year, Bonhams hosts a valuation session for select festival passholders on the final day of TCM's annual star-studded gathering. In addition to its complimentary appraisals at the TCM Classic Film Festival, Bonhams hosts an early preview of highlights from upcoming auctions, including rare collectibles associated with festival programming.
 
Information about the "There's No Place Like Hollywood" auction is available online at www.bonhams.com/tcm.