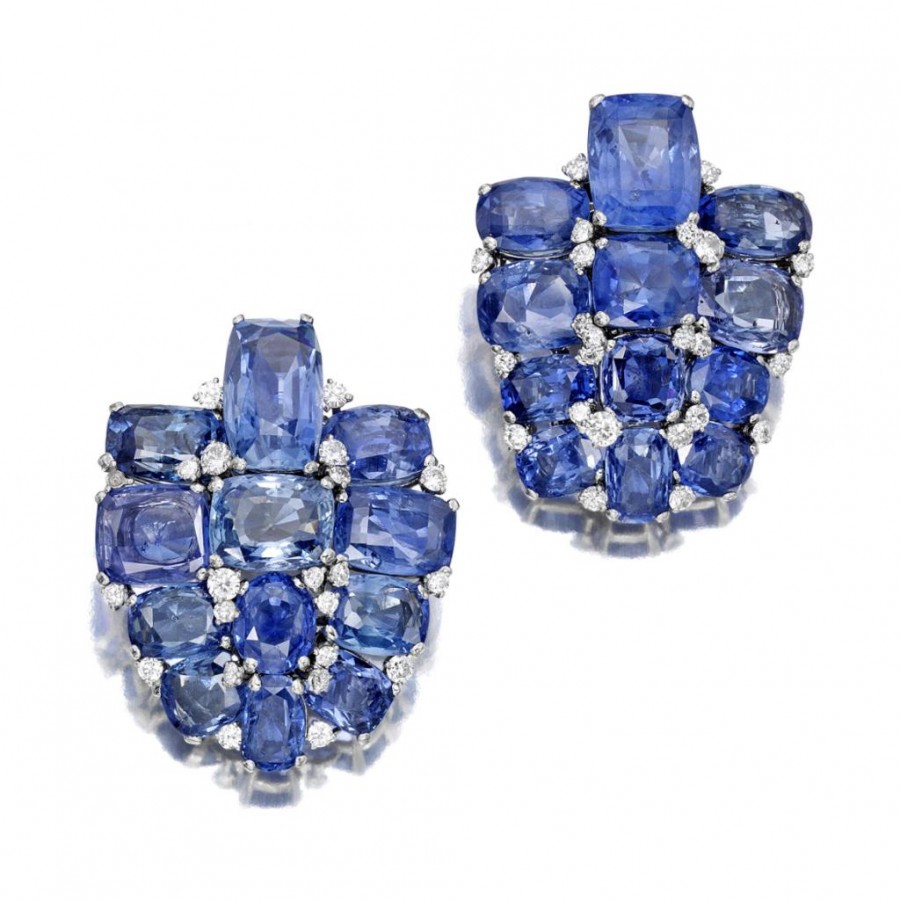 250 pieces by some of the world's most renowned designers will headline the Fine Jewelry auction on December 8th at Bonhams' New York salesroom.
 
A beautiful pair of clip brooches by Cartier, London, featured on the catalog cover, are estimated to fetch between $50,000 and $80,000. Each large clip is in the shape of a shield, set with stunning vari-cut sapphires and enhanced by circular-cut diamonds. The largest sapphire weighs approximately 17.00 carats.
 
The auction will also feature many colorful pieces from the art deco period, which are designs that remain collectible in a limited market, and expected to perform exceedingly well. A rare antique Renaissance Revival suite of sapphire, demantoid garnet and enamel jewelry by Louis Comfort Tiffany for Tiffany & Co., circa 1920, will be featured (est. $60.000 – 80,000). This beautiful and unique set comprises a necklace and ear pendants in a vibrant blue and green color scheme. It has irregularly-domed, color-saturated sapphires that reflect one of Louis Comfort Tiffany's favored palettes, and exemplifies his preference for gemstones left as close as possible to their natural forms.
 
A spectacular and important piece by Cartier is a natural pearl and diamond bracelet, circa 1915, which is estimated to achieve $75,000 – 125,000. The belle époque bracelet is designed as seven rows of natural saltwater pearls centering an articulated openwork pavé-set diamond plaque, enhanced by old European-cut diamonds, and joined by a rose-cut diamond bar clasp.
 
Adding to the selection of art deco pieces is an emerald and diamond bracelet also by Cartier, circa 1925, which is estimated at $30,000 – 50,000; a European-cut diamond ring with calibré-cut rubies (est. $15,000 – 25,000); and a ruby and platinum dress set by Van Cleef & Arpels that comprises a pair of cuff links and 4 shirt studs en suite (est. $6,000 – 8,000).
 
Important rings include:
·         A Cartier diamond ring (est. $200,000 – 300,000) weighing 8.45 carats;
·         A fancy colored diamond and diamond ring (est. $120,000-160,000), set with a brilliant-cut natural 5.58 carat yellow-green diamond, with a circular-cut pink diamond surround and pavé-set diamond split shoulders;
·         A Kashmiri sapphire and diamond ring (est. $40,000 – 60,000) that feature a cushion mix-cut sapphire flanked by old European-cut diamonds, within a pierced and openwork mount; and
·         A Colombian emerald and diamond ring (est. $20,000 – 30,000) featuring a bulbous, oval emerald cabochon weighing 22 carats surrounded by single-cut diamonds.
 
The rarest of the selection of colored stones is "The Carolina Queen," an unusually large American emerald pendant, which was mined at the foot of the Appalachians in North Caroline in 1998, and is the largest faceted emerald ever found in North America and the finest and largest ever recorded. The sparkling 18.87 carat gem is of exceptional quality and is estimated to fetch between $130,000 and $180,000. The brilliant, rich green sets it apart from other stones and makes it comparable to very fine Colombian stones.
 
A charming section of baubles from the collection of best-selling novelist, Barbara Taylor-Bradford, will also be offered, including an 18k gold sautoir by David Webb (est. $6,000 – 9,000), which the writer wore often and considered one of her favorites; and a ruby and diamond and 18k white gold bracelet in a signed pouch by Lena & Alberto of Capri (est. $8,000 – 12,000).
The auction preview will take place from December 4 – 7. The catalog is now online and can be viewed at http://www.bonhams.com/auctions/21813/.