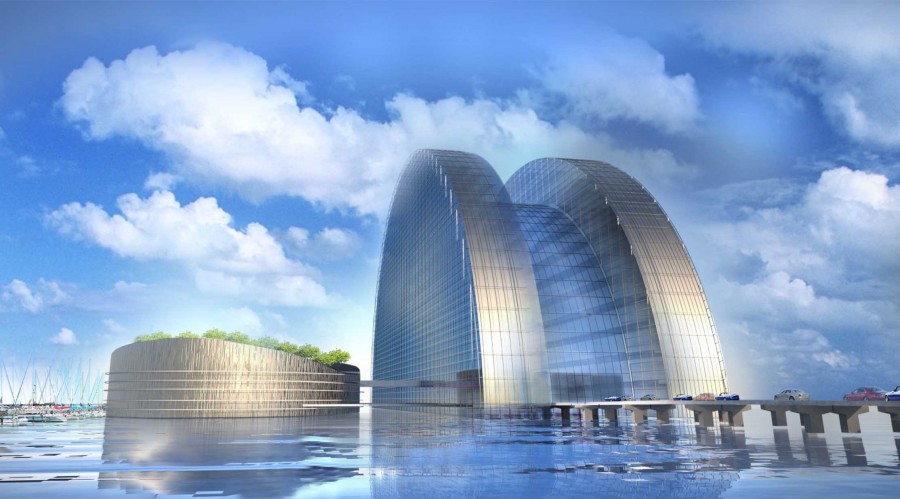 The Silver Pearl Hotel, Doha, Qatar — A new hotel and conference/expo center has been proposed for the upcoming 2022 FIFA World Cup in Qatar.
The Silver Pearl Hotel calls for a 1000 plus room luxury property to be located 1 1/2 kilometer off shore near Doha. The name of the hotel refers to a structure that will literally rise out of the sea to recall the country's seafaring and pearl diving history.
New York based architectural firm M. Castedo Architects designed the complex along with a team of world renowned engineering firms.  Pending approval, the project would be developed by Katara Hospitality, the premier Qatar hotel developer and operator.
The building will consist of two semicircular 30 story towers separated by a vaulted, climate controlled atrium over lush gardens with an open view to the ocean beyond. An adjacent structure will house a conference and exposition center as well as a recreational landscaped roof deck to be located above a multistory parking facility.
Luxuriously appointed rooms and suites will be designed to showcase the country's rich cultural heritage and visual traditions. There will be a broad range of restaurants and high end retail commercial spaces.
Visitors will arrive at the Silver Pearl by means of a four lane elevated causeway, by private yacht or by helicopter. The entire complex has been engineered to be elevated above the sea bed which will allow for unimpeded currents and minimum environmental impact.
A major environmental consultant with extensive marine experience in the area will be responsible for making sure that lessons learned on existing projects such as The Palm and The World in nearby Dubai are incorporated in the development of this particular site.
The projected cost has been estimated to be 1.6 billion US dollars including the supporting Infrastructure and excluding the interior construction and fit out of the restaurants and commercial spaces.
At night, the building's stainless steel glass exterior will be lit with LEDs, its reflection creating an illusion of a shimmering pearl glowing brightly in the Arabian Sea.