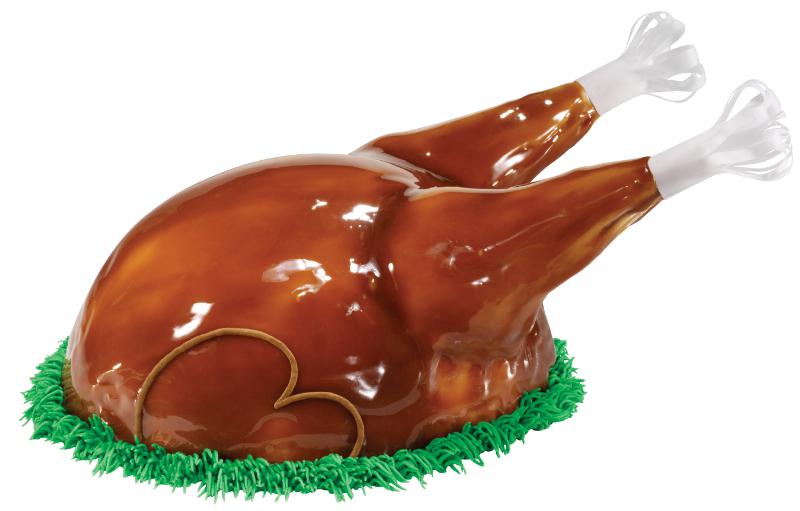 Baskin-Robbins is inviting guests to "gobble up" their very own Turkey Cake this Thanksgiving. The brand's popular Turkey Cake is an all ice cream cake glazed in caramel praline topping and completed with two sugar cone legs. It can be customized with a guest's favorite Baskin-Robbins ice cream flavor, and is available for pre-ordering in advance of Thanksgiving both in-store and online at www.baskinrobbins.com/onlineordering.
Additional Baskin-Robbins ice cream cakes perfect for the Thanksgiving holiday include:
Fall Harvest Roll Cake – Delight in the season with a fudge frosted roll cake, finished with a festive decoration of leaves and pumpkins. This cake can be customized with a guest's favorite ice cream flavor.
Turtle Pie – Sure to be a crowd pleaser at any

Thanksgiving

gathering, this pie features Pralines 'n Cream ice cream topped with caramel praline topping and pecans, set upon a delicious chocolate pie crust.
Baskin-Robbins' range of seasonal ice cream cakes are available at participating shops nationwide for pre-order in-store or online through the brand's online cake ordering website. Baskin-Robbins' ice cream cakes can be customized with the brand's wide range of delicious ice cream flavors, including Pralines 'n Cream, Mint Chocolate Chip, Rocky Road, Jamoca® and Chocolate Chip Cookie Dough.
To learn more about Baskin-Robbins and its wide range of ice cream flavors and frozen treats, visit www.BaskinRobbins.com or follow the brand on Facebook (www.facebook.com/BaskinRobbins), Twitter (www.twitter.com/BaskinRobbins) or Pinterest (www.pinterest.com/BaskinRobbins31).