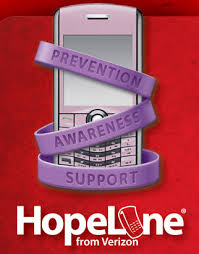 October is national Domestic Violence Awareness Month and Verizon Wireless is encouraging all Georgians to donate old phones to the company's Hopeline program to support victims and local domestic violence organizations in the Peach State. HopeLine from Verizon puts the nation's most reliable wireless network to work in the community by turning no-longer-used wireless phones into support for victims of domestic violence. Victims of domestic violence need help and the simple donation of a no-longer-used phone can be that lifeline. Georgia ranks twelfth in the nation for men killing women in single-victim homicides, most of which are domestic violence murders, according to a Violence Policy Center study. Verizon has a longstanding commitment to raising awareness of domestic violence and aiding in its prevention, working with many organizations to help domestic violence victims across the state.
Proceeds from the HopeLine program are used to provide wireless phones and airtime to victims of domestic violence and cash grants to local shelters and non-profit organizations that focus on domestic violence prevention, awareness and advocacy. Consumers can donate their phones at Verizon wireless communication stores or by mail using the postage-paid mailing label available at www.verizonwireless.com/hopeline.
"With nearly one in three women in the U.S. having experienced physical violence by an intimate partner, domestic violence is a very serious issue here in Georgia and across the country," said Jonathan LeCompte, president – Georgia/Alabama Region, Verizon Wireless. "Verizon has a long history of raising awareness of domestic violence and taking action to aid in its prevention. During Domestic Violence Awareness Month this year, we encourage all Georgians to dig through their drawers, find no-longer-used phones and donate them to HopeLine." Since the launch of the HopeLine phone recycling program in 2001, HopeLine from Verizon has collected more than 10.8 million phones, given out more than $21.4 million in cash grants, and distributed more than 180,000 phones for use by domestic violence survivors.