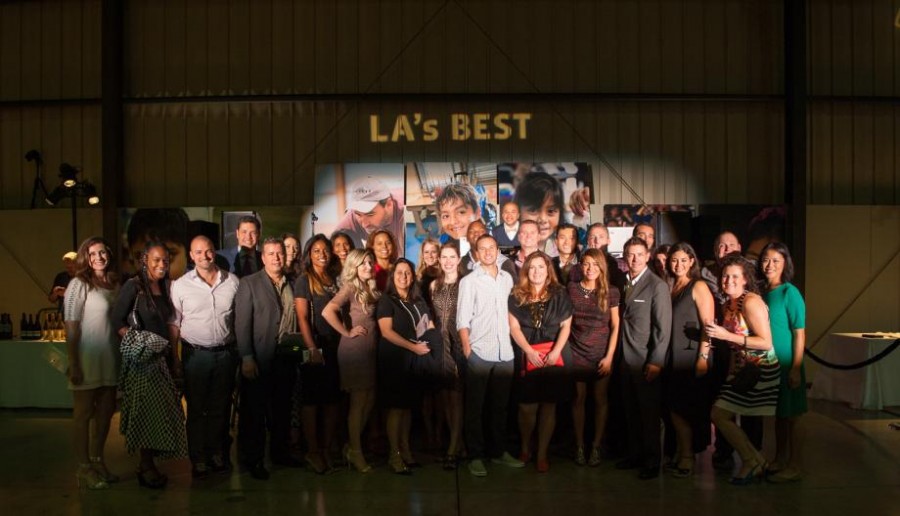 The 8th annual UnWINEd with LA's BEST event, presented by Laureus Sport for Good Foundation, is an example of the New Philanthropy, brought to you by the We Generation – a burgeoning group of young professionals who are just as committed to doing social good as they are to having a good social life. This particular group, the LA's BEST Friends Board, has turned this annual event into one of the most-innovative charity events in the City. More than 700 rising young professionals exited the fast lane for one night to support a worthy cause, LA's BEST After School Enrichment Program, which provides free enrichment to the children with the highest needs all over the city at 195 schools in the Los Angeles Unified School District. LA's BEST After School Program currently serves 29,000 kids throughout Los Angeles.
The hosts, LA's BEST Friends Board, had already enjoyed a reunion reception that brought together current and past board members to celebrate the group's 10th anniversary. The young professionals board was created in 2004 with only 18 members, who raised $35,000 in the first year. Today, the board is comprised of 26 members, with a network of 3,500 associates, and is raising over $400,000 annually. They set a $150,000 goal for this year's edition of UnWINEd with LA's BEST and exceeded that by raising an estimated $200,000 for the after school program. Singer, actress, host and reality star Christina Milian donated wine to the event from her own Viva Diva Wines collection and was a special guest of the evening. Christina first helped serve her Moscato to guests and later talked onstage about her experience with after school programs, which benefited her sisters, and about her support for LA's BEST. She then introduced Warner-Chappell songwriter and singer Zak Waters.

Waters had arrived early and was very enthusiastic about performing and helping the event raise money for LA's BEST. As a child who grew up in Los Angeles and attended an LAUSD school, he spoke very passionately about the importance of LA's BEST and after school programs. "It was a real honor to play at LA's BEST UnWINEd event," Waters said. "I grew up in the LAUSD school system and would have greatly benefited from an afterschool program like LA's BEST. They are making a real difference for so many students and I'm proud to support it." Waters performed a short set, just enough to get the dance floor going, and then stayed afterward to mingle with the crowd and consent to selfies taken by guests, staff, and volunteers.