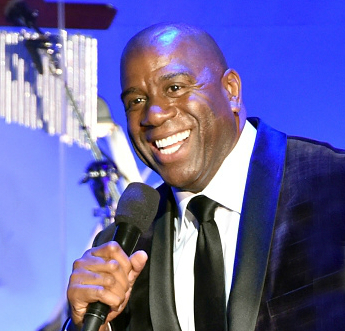 On Saturday evening, October 11th, The Carousel of Hope held their fundraising event at the Beverly Hilton Hotel. From its inception in 1978, the event has raised over $75 million dollars towards finding a cure for diabetes.
This year's gala honored Magic Johnson. Jay Leno served as the Master of Ceremonies and Jennifer Hudson, Kenny "Babyface" Edmonds & Josh Groban entertained under the musical direction of David Foster and the Music Chairmen, Clive Davis & Quincy Jones.
With Chairman Barbara Davis and her committee, this star-studded event raised funds through sponsorships, a live and silent auction, underwriting and contributions. Proceeds of the event benefit the Barbara Davis Center for Diabetes (BDC). Past performers include, Beyoncé, Sir Elton John, Frank Sinatra, Sammy Davis, Jr., Celine Dion, Whitney Houston, Stevie Wonder, Lionel Richie, Paul McCartney, Rod Stewart, Kenny "Babyface" Edmonds, Jennifer Hudson, and the Jonas Brothers.
Chairman: Mrs. Barbara Davis
Entertainment: Jennifer Hudson, Kenny "Babyface" Edmonds & Josh Groban
Honoree: Earvin "Magic" Johnson
Master of Ceremonies: Jay Leno
Producer: George Schlatter
Music Director: David Foster
Music Chairmen: Clive Davis & Quincy Jones – See more at: http://www.childrensdiabetesfoundation.org/events/2014-carousel-of-hope-ball/#sthash.a7JBVBKW.dpuf
http://www.childrensdiabetesfoundation.org/
The Carousel of Hope is held every two years in Los Angeles, CA at the Beverly Hilton Hotel. From its inception in 1978, this event has raised over $75 million dollars towards finding a cure for diabetes. With Chairman Barbara Davis and her committee, this star-studded event raises funds through sponsorships, a live and silent auction, underwriting and contributions.  Proceeds of the event benefit the Barbara Davis Center for Diabetes (BDC).  Past performers include, Beyoncé, Sir Elton John, Frank Sinatra, Sammy Davis, Jr., Celine Dion, Whitney Houston, Stevie Wonder, Lionel Richie, Paul McCartney, Rod Stewart, Kenny "Babyface" Edmonds, Jennifer Hudson, and the Jonas Brothers. – See more at: http://www.childrensdiabetesfoundation.org/events/2014-carousel-of-hope-ball/#sthash.a7JBVBKW.dpuf
The Carousel of Hope is held every two years in Los Angeles, CA at the Beverly Hilton Hotel. From its inception in 1978, this event has raised over $75 million dollars towards finding a cure for diabetes. With Chairman Barbara Davis and her committee, this star-studded event raises funds through sponsorships, a live and silent auction, underwriting and contributions.  Proceeds of the event benefit the Barbara Davis Center for Diabetes (BDC).  Past performers include, Beyoncé, Sir Elton John, Frank Sinatra, Sammy Davis, Jr., Celine Dion, Whitney Houston, Stevie Wonder, Lionel Richie, Paul McCartney, Rod Stewart, Kenny "Babyface" Edmonds, Jennifer Hudson, and the Jonas Brothers. – See more at: http://www.childrensdiabetesfoundation.org/events/2014-carousel-of-hope-ball/#sthash.a7JBVBKW.d