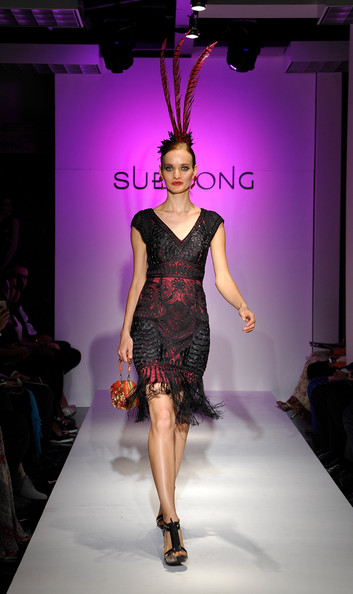 STYLE Fashion Week open's its doors to host their 8th season this week. Presented by new online-retailer Le Jolie, the event will take place downtown at The Reef, 1933 s Broadway, Los Angeles, CA 90007, October 15th-19th. This time around STYLE has taken their past production accomplishments to the next level! They've built their own surprise venue in an open space in the cutting-edge, chic garment district, where LA fashion is created, shown, and sold to stores everywhere. This season's partnering charity, City of Hope, provides expert care with superior treatment results to cancer patients.
Hair sponsor Prive will transform models for the show behind-the-scenes alongside designers, stylists and Starlooks make-up artists. Monster energy drink will provide beverages to keep everyone hydrated and on top of their game backstage. DHL came on board by providing shipping to and through the 5-day event. Woman's clothing line FoxBait will have a running viewing party throughout the week.
The opening reception will be held on October 14, 2014 at The Association LA, located at 110 E. 6th Street, Los Angeles CA 90014 from 8pm-12am. The list of designers are as follows: Alexis Monsanto, Altaf Maaneshia, Andre Soriano, A'qua swim, Atiz, ClubWear, Control Sector, Dar Sara, Dolcessa Swimwear, Deborah Manene, Dirty Karma, Donna Mizani, Gemelli, I AM ZOE, JM Couture, Judith and James, Just For Tee, K Morales, Kinsman Swim, Le Jolie, Nicole Lee, Pedram, Quynh Paris, Rosario, Signature Young, Skintone Clothing, Sue Wong, Walter Mendez, and XCVI.
Event partner Le Jolie searched for the new face of their brand as models were hand picked by the design teams and fashion experts. Model/Actress Janice Dickenson came in to give some pointers to the models while helping the teams make their best selections, and then wrapped the casting with sharing some kind words with the crowd. The shows will open with veteran Sue Wong, on Wednesday evening, October 15th, at 7. International designer Just For Tee flew in from Beijing to make his debut in the US, following Sue that night. As the event heads into the weekend, many more fashion collections take the stage to show what's in store for Spring/Summer '15.
Dr. Dre's son Curtis Young showcases his new collection – Signature Young – by kicking off the show Thursday evening. This special night calls attention to and benefits charitable southern California cancer research hospital – City of Hope. Designers Control Sector and Judith and James will show for the 3rd time in a couple months that night, as well. They fly in to LA after finishing shows in Dubai and NY prior – to make this STYLE Fashion week their grand finale for the season! Donna Mizani, one of fashion's top-selling designers, will showcase her ss15 collection closing the night out. Friday night begins at 6 with back-to-back shows featuring the newest swimwear fashions from A'qua Swim, Dolcessa Swimwear, and Kinsman. Following will be apparel for the on-the-go fashion-forward type. XCVI will be showcasing their new active-wear line and the golf inspired Clubwear designs to follow. Altaf Maaneshia will show a mystic garden inspired high-end fresh and contemporary collection, roused by structured lines and fashion forward cuts. Designers Pedram and Walter Mendez will do an elegant eveningwear show to close out
the Friday night lights. Menswear designer Gemelli will show on Saturday evening before jean lovers favorite Dirty Karma puts on a special denim inspired show. JM couture will showcase an illuminati inspired selection that night, called Illuminarium. The inspiration embraces symbols of elements, planets, ancient Egypt and mythology. Le Jolie will showcase a mix of their high-end designer brands to close out the Saturday show.
The last day, Sunday the 19th, features a couple designers from Paris and Dubai. Alexis Monsanto returns to the runway for this fashion finale. Six designers total will walk their collections down the runway closing night. The shows end at 10pm – just in time to kick off the official STYLE Fashion week after-party. The festivities will continue at Project on Hollywood Bld. in Hollywood.