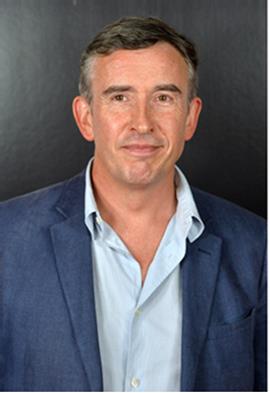 Noted for his range of comedic and dramatic roles, Oscar® and Golden Globe® nominee Steve Coogan (Philomena, Alan Partridge) is set to star in the SHOWTIME comedy pilot HAPPYISH. The half-hour pilot will be filmed in New York this December. HAPPYISH is a comedic, soul-searching examination of our pursuit of happiness, a pursuit that might just be the very thing causing our unhappiness in the first place. 
 
Coogan will star in the lead role of Thom Payne, a 44 year-old man whose world is thrown into disarray when his 25 year-old "wunderkind" boss arrives, saying things like "digital," "social" and "viral."  Is he in need of a "rebranding," as his mentor insists, or does he just have a "low joy ceiling," as his corporate headhunter suggests? Maybe pursuing happiness is a fool's errand? Maybe, after 44 years on this ludicrous planet, settling for happyish is the best one can expect.
 
HAPPYISH was created, written and executive produced by critically acclaimed author and regular This American Life contributor Shalom Auslander.  Emmy® Award nominee Ken Kwapis (He's Just Not That Into You, A Walk In The Woods) will executive produce and direct the pilot. Kwapis' producing partner Alexandra Beattie will co-executive produce, under their In Cahoots banner.
 
"Steve's range is astounding – he is a comedy legend, a gifted satirist, and he possesses the unique combination of talents this role demands," said  Auslander.
 
Comedian, writer and producer Steve Coogan is widely considered to be one of the greatest British comedic voices of his generation.  He created the popular character Alan Partridge, who has been featured across a number of series and feature films, and has earned him wide critical acclaim, including three BAFTA Award wins.  Coogan co-wrote, produced, and starred in the Oscar nominated film Philomena, which earned him Golden Globe, BAFTA® and Academy Award® nominations in 2013. Coogan's other feature films include Tropic Thunder, The Other Guys, In the Loop, Hamlet 2, The Parole Officer, 24 Hour Party People, Around the World in 80 Days, Our Idiot Brother, Ruby Sparks, What Maisie Knew, The Trip, A Cock and Bull Story, Despicable Me 2 and The Night at the Museum films. Coogan has also been honored with multiple awards for his work in television including British Comedy Awards and BAFTA Awards.
 
Showtime Networks Inc. (SNI), a wholly-owned subsidiary of CBS Corporation, owns and operates the premium television networks SHOWTIME®, THE MOVIE CHANNEL™ and FLIX®, as well as the multiplex channels SHOWTIME 2™, SHOWTIME® SHOWCASE, SHOWTIME EXTREME®, SHOWTIME BEYOND®, SHOWTIME NEXT®, SHOWTIME WOMEN®, SHOWTIME FAMILY ZONE® and THE MOVIE CHANNEL™ XTRA. SNI also offers SHOWTIME HD™, THE MOVIE CHANNEL™ HD, SHOWTIME ON DEMAND®, FLIX ON DEMAND® and THE MOVIE CHANNEL™ ON DEMAND, and the network's authentication service SHOWTIME ANYTIME®. SNI also manages Smithsonian Networks™, a joint venture between SNI and the Smithsonian Institution, which offers Smithsonian Channel™. SNI markets and distributes sports and entertainment events for exhibition to subscribers on a pay-per-view basis through SHOWTIME PPV®.