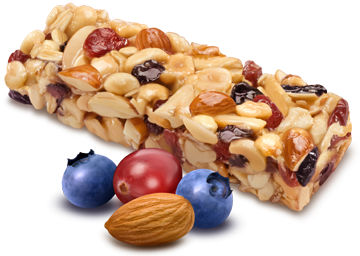 Who doesn't love a delicious Balance Bar to snack on at the office? Now BB has announced three new flavors with Balance Bare!
Mixed Berry Nut, Sea Salt Caramel Nut and Sweet & Spicy Nut – the bars are made with whole nuts, fruits, seeds and other simple and nutritious ingredients. Each bar is 160 calories and are non-GMO, gluten free, soy free, vegetarian and certified kosher dairy. The Mixed Berry Nut and Sweet & Spicy Nut bars are also dairy free and vegan friendly.
"More than half of Americans (53 percent) are snacking two or three times a day. One in every five eating occasions in the United States is a snack," said Katia Facchetti, Chief Marketing Officer for Balance Bar®. "We want to make sure we're offering plenty of smart snacking options with great taste and balanced nutrition. Balance bare® is a great choice for a smart snack consumers can feel good about."
The Balance bare® products will be available with an MSRP of $1.69. In addition, beginning today, bare bars will be sold on shop.Balance.com with a 15% discount off an entire purchase of bare bars with promo code BARE15. The promotion will run through October 31st.