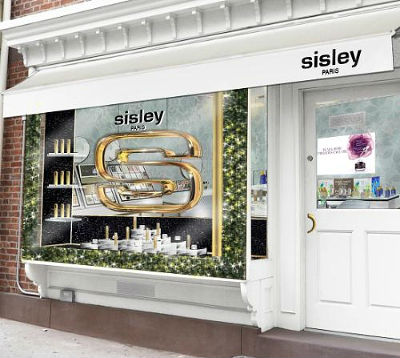 Luxury French beauty brand Sisley is set to open its first freestanding New York City boutique this December. Sisley's skincare, make-up and fragrance collections will be available at the new West Village boutique located at 343 Bleecker St.
The 760-square-foot space will mark the launch of a new store design for Sisley, which draws influences from its heritage as a family owned company. The boutique will also offer Sisley's renowned beauty treatments within its spa room along with a private make-up area that can be reserved for special occasion make-up needs.
Founded by Hubert d'Ornano in 1976, Sisley remains owned by the family to this day. Christine d'Ornano, Sisley's International Vice President and daughter of Hubert d'Ornano, hand-selected a number of the decor items. Her goal was to create the look of an intimate but modern apartment drawing influences from Sisley's Parisian roots while including elements from its downtown New York location. 
"We wanted the boutique to feel warm and inviting," said Ms. d'Ornano. "Less like a retail space and more like an apartment where you can come and discuss your skin's needs, have a facial or have your make up done before a party.  A Sisley home in downtown New York." 
Jim Maki, Sisley's U.S. Executive Vice President, adds, "This new boutique design will blend seamlessly into the neighborhood and we are sure it will become a destination for customers seeking luxurious, effective skincare and make-up products and pampering facial and make-up services."
Design Details:
Library: The layout will feature a sitting lounge area and library to encourage customers to spend time relaxing while discovering Sisley's products. Ms. d'Ornano will curate the library with art and cultural books that inspire her family in the creation of products.
Wallpaper: The lively botanical print wallpaper was designed by

Marthe Armitage

. Based in the UK, she is considered one of the best hand-made wallpaper designers in the world. For decades she has hand drawn her stunning prints and continues to create this way even now into her eighties.
Chandelier: This was selected from local artist's

Lindsay Adelman's

made-to-order collections based out of

Brooklyn

.
Flooring: The oak floors will be finished in a special light gray tone injecting an elegant, chic downtown

New York City

look into the space.
Boutique Services:
The spa cabine room can be pre booked for facials and is the only location in downtown

New York City

to experience a full Sisley facial. The comprehensive menu offers facial options for every skin care need from radiance-enhancing facials to intense anti-aging results. Packages will be available for customers who want a regular boost of indulgent facial treatments. Full make-up applications are complimentary with all facial treatments.
The separate make-up application area is ideal for women who prefer privacy while having makeup applied or who want make up advice in a quiet environment. This service can be booked ahead of time and Sisley's artist will tailor a complete look to the customer's event needs.
The boutique will launch the option of at-home facial and make-up application services shortly after opening.
The Sisley boutique is slated to open the week of December 1st, just in time to be the perfect destination for all personal and corporate holiday gift-giving needs.