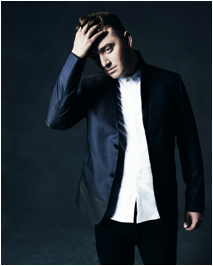 Sam Smith will return to the U.S. again for his first-ever arena and theatre tour starting January 9, 2015, and hit venues such as Madison Square Garden in New York City on January 15 and in Los Angeles on January 30. Tickets will go on sale to the general public beginning October 24th, 2014 at 10am EST. American Express Card Members can purchase tickets before the general public beginning October 20th, 2014, at 10am EST through October 23rd, 2014 at 10 pm EST.It was only a year ago Smith played his first show in the U.S. – at the Mercury Lounge in New York City. In that short time, his incredible ascent will see him take the stages of the some of the most prestigious high capacity venues in the country.
"It's been my dream to play some of these venues," said Smith. "I'm so appreciative of how American audiences have embraced my music. I'm thrilled to come back to the U.S. again. This is starting to feel like home!" Smith's fast-paced trajectory is attributed to his undeniable, and immense talent. His album In The Lonely Hour debuted at No. 1 in the UK and No. 2 on the Billboard 200 in the U.S., and remained in the Top 10 for 13 weeks. That album claimed the record for the highest first week sales for a UK male artist in the soundscan era and currently has surpassed sales of 2.8 million adjusted units worldwide.  Most recently, the album climbed back up to No. 1 in the UK once again, while it has remained in the Top 5 since release, 20 weeks ago. Additionally, In The Lonely Hour reentered the Top 10 in the U.S. this week.
While "Stay With Me" has become a mainstay at mainstream radio, Smith's current single "I'm Not The Only One" is on the same path. The moving accompanying video features Dianna Agron (Glee) and Chris Messina (The Mindy Show), playing out a heartrending tale of betrayal amongst a married couple, following the songs' candid lyrical content. Most recently, Smith was nominated for two American Music Awards in the categories of New Artist of the Year and Favorite Male Artist Pop/Rock.