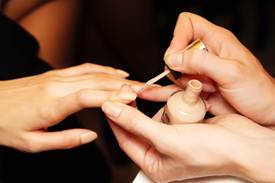 Sally Hansen's complete Salon Manicure a must have. To accessorize the elegant and fluid silhouettes in Stella McCartney Summer 2015 collection, Sally Hansen's Global Color Ambassador Madeline Poole created a coolly minimalist, nude manicure with a twist by giving flesh toned polish an unexpected matte finish.
She paired Sally Hansen Big Matte Top Coat with flattering nude shades from the Complete Salon Manicure collection to give the glossy manicure a chic velvety matte look.
 
"The idea for the matte nude nail came from referencing the true sheen of a natural nail," says Madeline Poole.  "As an unpainted nail is generally more satin or matte in finish, we were mimicking this surface. In the end, the result is dusty and bare like the cheek of a porcelain doll."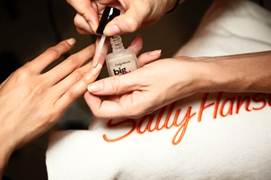 Sally Hansen's Complete Salon Manicure collection infuses trend-setting shades with an expert quality formula,  chip resistant strength joins gel-quality shine. Must-have color meets nourishing benefits. Plus, a built-in base and top coat, it's everything you need to achieve a professional manicure at home.
 
Sally Hansen Big Matte Top Coat transforms a glossy manicure of any color into a velvety matte for an edgy, unexpected finish. Containing a mattifying Silica agent, the formula brushes on glossy before instantly drying to a matte top sealant. The smooth top coat applies evenly and easily and dries with lightning speed without smudging nail art or other special effect nail polishes and can also be applied to bare nails for an extreme matte look with a silky finish.