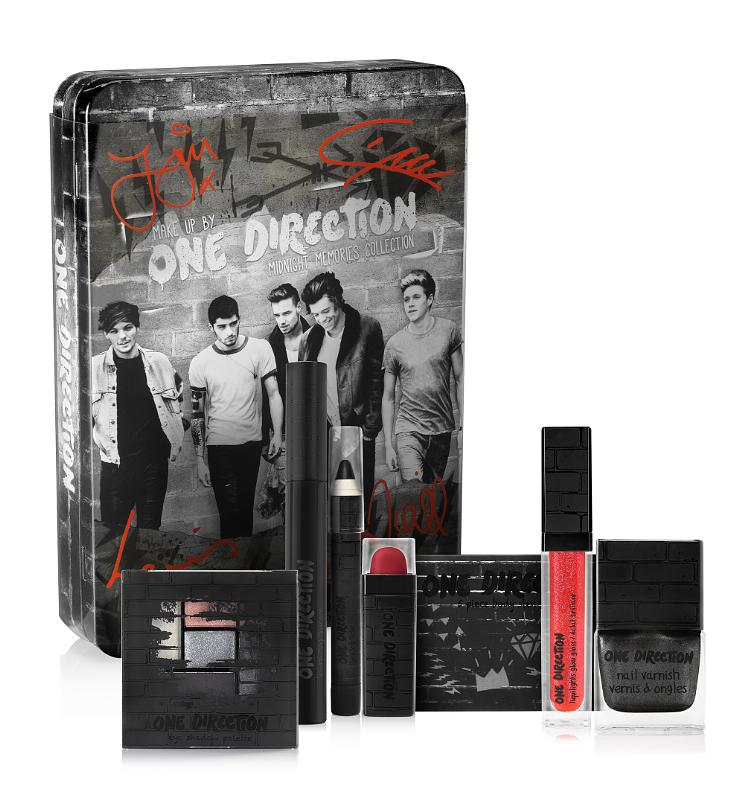 Does One Direction have it all? The millions of screaming fans, the hits, the fragrance and now the makeup line. It's official, One Direction, is launching a range of makeup inspired by, and designed for, the band's millions fans. 
The collections feature vivid shades and premium formulas, all presented in uniquely collectible, limited-edition packaging, and inspired by the band's chart topping albums, "Midnight Memories," "Take Me Home" and "Up All Night."  Products feature formulas that should resonate with fans, including LiquiLights Glow Gloss, a UV-reactive gloss that sparkles during the day and glows under black (UV) light after dark.
Band members Louis Tomlinson, Niall Horan, Liam Payne, Zayn Malik, and Harry Styles – currently engaged in a world stadium tour – hinted at news of the line when Niall posted a photo on Twitter of his nails covered in varnish and his hands "swatched" with makeup.
"Just had a great meeting about 1D make up! It's that good I'm gonna start wearing it myself," tweeted Niall Horan.
The line will debut at Macy's, August 10th, as the band simultaneously kicks off the American leg of One Direction's "Where We Are" tour.  Products will be available in other premium retail venues in the U.S. and around the world shortly thereafter.
Make-Up by One Direction is designed and marketed by Markwins International, in concert with MCI Beauty Limited – a partnership between Markwins International, CBBeauty Limited, and Eden Parfums Limited. Building upon a 30-year history of industry leadership and innovation, Markwins International is synonymous with high-quality cosmetics at an unbeatable value.  Markwins' portfolio of brands includes wet n wild®, Physicians Formula®, #flashmob®, The Color Workshop®, and a range of licensed collections.  Founded in 1984, the vertically integrated company pioneered the concept of the all-in-one cosmetics compact, and has received numerous awards for product safety and its commitment to cruelty-free practices.